Ride-sharing has officially arrived in Alberta, and AMA Insurance has partnered with Uber to keep you safe and legal on the road while driving for the company!
We've made it simple to adjust your auto insurance coverage if you want to become a driver for Uber.
So does AMA insure Uber drivers?
Yes, we do!
If you're interested in driving for Uber, you can do so while maintaining your insurance coverage with AMA.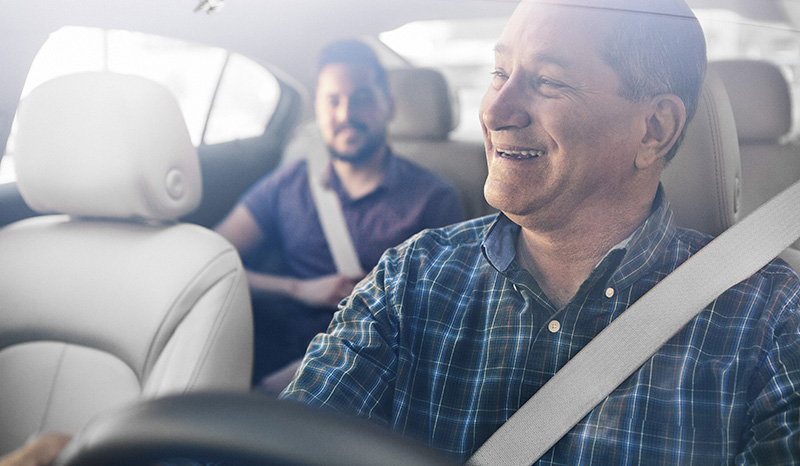 Basically how it works is that your AMA Insurance policy works in conjunction with the protection that Uber provides. Sometimes, like when you're driving your kids to soccer, you're covered by us. Others, like when you're on your way to pick up a passenger, Uber has you covered. So good news – you don't have to go through the hassle of changing your insurance company if you want to drive for Uber. You can just stay with AMA.
If you're interested in driving for Uber, contact one of our helpful advisors for more information.
When am I covered by my AMA Insurance policy and when am I covered by Uber's insurance?
Alberta regulations outline four distinct ride-share phases for insurance purposes. Uber provides coverage for its drivers under two of those phases while the driver is working for Uber. If you have a policy with AMA Insurance, we will provide coverage for personal use under the other two phases.
Period 0: You're using your car for your own personal use – covered by your AMA Insurance policy
Period 1: You're logged in to Uber, but you have not accepted a fare – covered by your AMA Insurance policy
Period 2: You've accepted a fare and are driving to pick them up — covered by Uber's policy
Period 3: You have a fare in your vehicle and are driving to their destination — covered by Uber's policy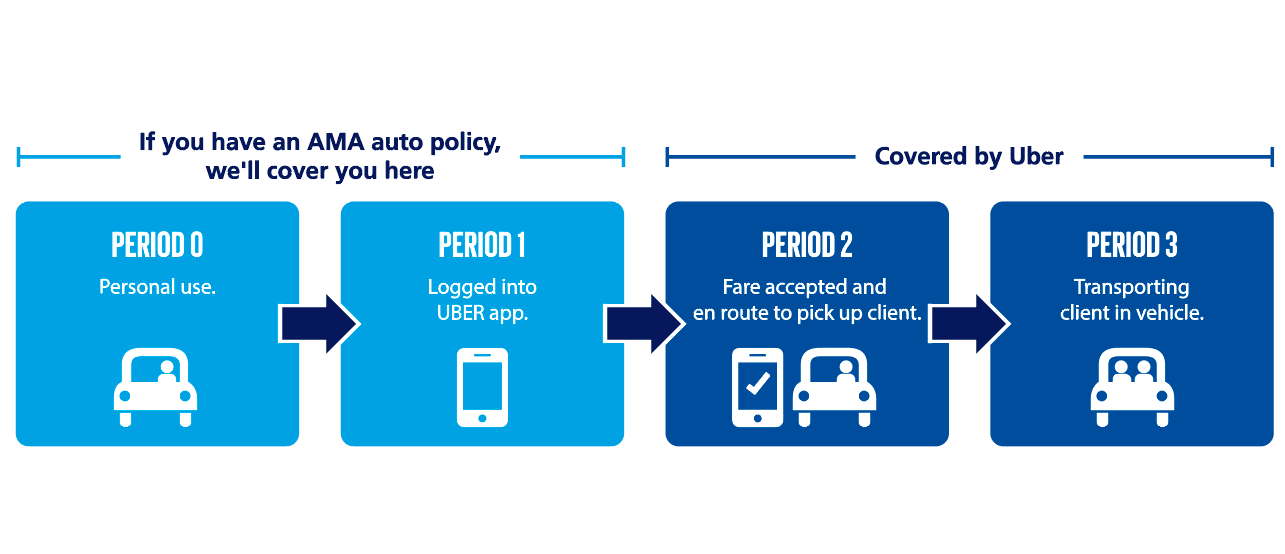 Do I have to tell you I'm an Uber driver?
Yes, if you're going to be driving for Uber, you need to alert your insurance company. Simply contact one of our advisors to make the change.
Does this apply to other ride-sharing or transportation network services?
Currently, AMA Insurance only has coverage in place for vehicles being driven for Uber and not for other ride-sharing services.
Does this apply to other Uber services such as Uber Eats or Uber Rush?
No, this coverage structure only applies to Uber's ride-sharing service. AMA does not offer coverage for personal vehicles that are used for deliveries.