Out with the old; in with the new!
For years, Westworld magazine has been a staple with AMA's 987,700 members, keeping them informed on changes to the organization – new AMA Rewards partners, new services, and amazing travel destinations across Alberta and around the world. This year, we're updating the magazine's look, feel, and content to deliver even better deals and community updates to your mailbox, four times a year.
And it all starts with the name. Introducing: AMA Insider!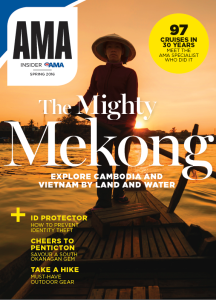 This new name makes a stronger connection to AMA and to the magazine's purpose: To give our members an insider's look at the value of membership and some inspiration, tips, and advice to help you live your best life.
When will my AMA Insider Magazine Arrive?
Watch out for the premier edition of AMA Insider magazine starting February 12, 2016. Can't wait? Check it out online.
What are Some of the Features and Sections in AMA Insider?
Regular driving, travel, insurance and automotive content.
A Kids' Club page promoting fun and helpful content for your entire family (especially the little ones).
Announcements of new and featured AMA Rewards partners, where you can save money and earn reward dollars.
A brand new online experience (launching February 12) with additional digital-only stories, photos, and videos, so you can enjoy AMA Insider anywhere you go.
How Do I Receive AMA Insider Magazine?
Current Westworld magazine subscribers don't need to do anything. Your Westworld Magazine subscription automatically transfers over to AMA Insider, which you'll begin receiving in February 2016.
To make sure your mailing address is up to date, sign in to your AMA Online Account.
You can also visit Insider at amainsider.com.