Diane Hodder isn't a full-time contester. And she doesn't come across as a hardcore competitor. But this AMA member of 18 years is one of the current overall leaders when it comes to scoring ballots in AMA's Earn or Save Giveaway.
Diane, a retiree from the Fort McMurray area, first got word about the contest when she visited her local AMA centre to pick up an Ultimate Dining Card.
"The staff at the front counter gave me a brochure and told me how I could win all these prizes just by shopping at AMA Rewards partners," she says. "I grabbed a Member Savings Guide and realized there was all these places I didn't know about where I could save money and earn reward dollars."
"I turned to my husband and said, 'here's a way we can pay for my membership!'"
Diane drives a Toyota and makes frequent trips down to Edmonton. She realized that she gets an instant discount on vehicle service at Mayfield Toyota.
Another surprise was Reitmans. "I love to shop there. Now I save 10% on clothing and get entered into the contest."
Within just a few weeks, Diane racked up 59 Grand Prize ballots, which she has been keeping a close eye on through her dashboard. "I'd love to win the luxury RV or Friends of Grey Cup Package," she says. "But my goal right now is reaching the $40 reward dollars and 100 Bonus Ballots Instant Prizes. That'd be nice."
So how does she do it? Diane isn't shy about sharing her secret to sweepstakes success: "I have a Reloadable Esso Card, and I do a lot of driving. So every time I fill up, I automatically get a ballot."
Diane laughs when I mention she's a top Earn or Save Giveaway player province wide:
"Really? It's not difficult at all. It's fun!"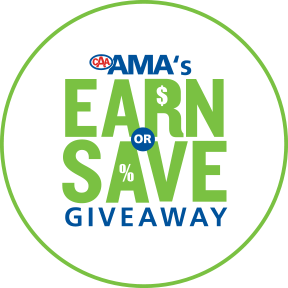 Your Receipt Is Your Ticket to Win!
AMA membership is more rewarding than ever. This summer we're giving away 3 Grand Prizes, 8 Early Bird Prizes, and thousands of Instant Prizes. All you need to do is join AMA and EARN or SAVE at AMA Rewards partners for your chance to win! Hurry – contest ends August 31, 2018.