Albertans are a generous bunch. Our province ranks #1 in average donations and #2 in per cent of income given. And as the holiday season approaches, AMA is here to help protect the things that matter most—like people in our communities.
December is when we kick off our annual holiday giving campaign, Fill our Fleet in support of local food banks. To date, AMA and members across the province have worked together to raise nearly $400,000 and 100,000 lb. of food.
Hungry for some heartwarming and surprising facts about food banks? I sat down for a chat with Tamisan Bencz-Knight, Manager of Strategic Partnerships from Edmonton's Food Bank to learn more.
1. The Number of Hungry Albertans Keeps Rising
Even though the economy is starting to recover, demand for food from the food bank continues to grow. "We're an economic barometer," says Tamisan. "We were seeing more clients before anyone was talking about oil industry layoffs." Unfortunately, the need hasn't slowed down. Edmonton's Food Bank served 16,412 people with food hampers in January 2013. The same month in 2017: 23,657 people.
2. It's Not Always Who You Would Expect
Who uses food banks? "Just look around you—it could be anyone," says Tamisan. "They're average citizens trying to stay afloat: seniors, students, part-time workers, families, people with disabilities; we even support schools and other organizations. Some people are just one unexpected expense away from needing help." Food banks are there so you don't have to choose between feeding your family or paying the rent.
3. Food Banks Are There When Help Is Needed
"For whatever reason—pride, embarrassment, fear—many people turn to the food bank instead of asking for help from friends or family," says Tamisan. "And for those escaping situations like domestic violence, there just aren't any other options. When you need to stuff your things into a suitcase and run away to a hotel, you don't have savings to pay for meals. Food banks are your extended family."
4. Food Banks Are the First Point of Support
When Edmonton's Food Bank surveyed its clients, the clear majority said when they needed help, they turned to their local food bank first. "Collecting and distributing food hampers, meals and snacks to individuals, agencies, and schools is what we do best," says Tamisan. "But we also connect people to other agencies, such as those with employment or mental health services, when they need it."
4. Clients Give Back When They Can
Many who donate to the food bank were once clients themselves. "There are countless stories of our clients giving back, even if it's just a dollar or two." says Tamisan. "One couple in particular stands out. The husband was struggling to find work and when his unemployment insurance ran out they relied on the food bank to survive. They received a small inheritance which helped to get them back on their feet, and one of the first steps they took was to donate. I know they'll keep giving what they can because they know what it's like to go without."
6. They Rely on Support from the Community
"Food. Money. Time." says Tamisan. "We need all three to keep running." Food, of course, is critical. Not only does this stock shelves, but when kids give the tangible gift of food, they're inspired to become lifelong donors.
Monetary donations help on many levels, from paying for trucks to pick up bulk donations to purchasing much-needed food items. (Remember, every dollar raised provides three meals.)
Finally, volunteer time is always needed. Many food banks rely on the services of volunteers throughout the year – whether in the warehouse or helping with the day-to-day operations. Volunteers are so important, especially during busy times like the holidays.
Let's Feed Albertans in Need This Holiday Season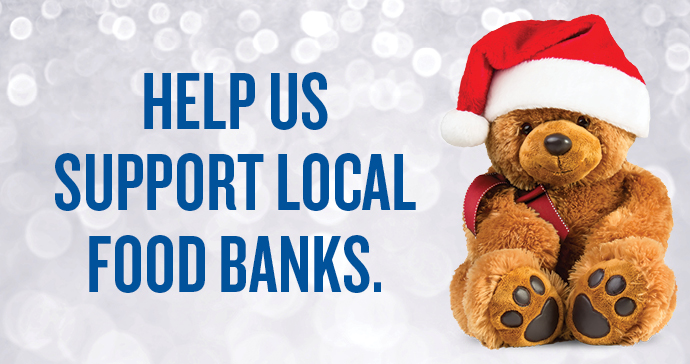 From December 9 – 16, join AMA and our members across the province and donate to AMA Fill our Fleet in support of local food banks. Here's how:
Donate Online. All money goes directly to your community food bank
Donate in Person. Bring a monetary or non-perishable food donation to any AMA centre
FREE Photo with Santa. Show your membership card and bring a donation to select centres and get your photo taken with Santa (Saturday, Dec 9, from 9 a.m. to 2 p.m.)