What happens when you sit down for a talk with a race car driver and a tire guy? You learn a lot about burning rubber AND buying rubber.
Amber Balcaen is the first Canadian woman to win a NASCAR-sanctioned race in the U.S. Born and raised in Winnipeg, she knows what it takes to drive in tough conditions and wintry roads. Geoff Wiebe is a Kal Tire expert with 20+ years of industry know-how.
Here are 8 tips about winter tires along with why Albertans should make the switch when the temperature dips.
Tip #1: Winter Tires Provide Better Driving Performance
When it comes to safe winter driving, winter tires boast better traction, handling, cornering and braking on icy roads and highways because the rubber compound is made specifically, and tested, for winter conditions. At 7 degrees Celsius or lower, the rubber stays soft and grips the road surface.
All-season tires, more accurately called three-season tires, are designed for use in spring, summer and fall, but not winter. Once the temperature starts to drop, the rubber compound hardens up and essentially slides on icy roads like a hockey puck. That's unsafe for winter driving.
Tip #2: Winter Tires Have a Shorter Stopping Distance
Winter tires stop better on icy roads. At just 30 km/h, cars fitted with winter tires come to a stop nine meters shorter than all-season tires. That's the difference between stopping safely or skidding through a red light. View Winter Tire Testing Infographic
Tip #3: Know Your Tire Symbols
Not sure if you have winter tires? Look for the mountain/snowflake symbol stamped on the sidewall of winter tires. All-weather tires—a tire you can drive safely on all year long—also have the mountain/snowflake symbol, so they're designed for good grip in ice and snow, too.
Don't be fooled by the M+S (mud and snow) symbol on all-season tires. These aren't recommended for Alberta winters. The M+S symbol just means the tire can expel more mud and snow, compared to a summer tire. All seasons don't provide the much-needed traction on icy roads. Learn More About Tire Types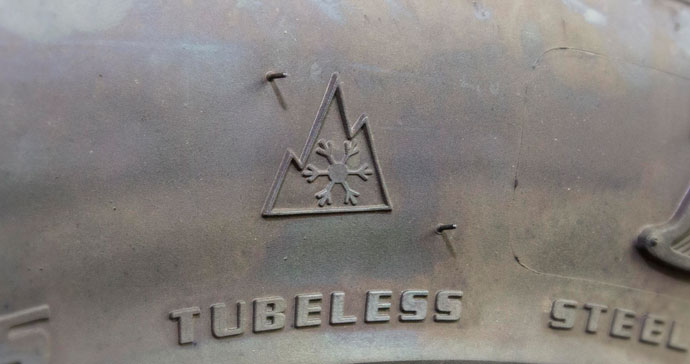 Tip #4: Save Money with a Set of Wheels for Your Tires
There are additional costs associated with switching your tires every winter and spring. Tire shops charge more to swap tires than to simply bolt on wheels with rubber already attached. That's because they must peel the tires off the rims, install the other set of tires, and then re-balance the wheels.
If you're planning on owning your vehicle long term, buying a separate set of wheels for your winter tires could save you money. Not sure what the smartest value is for you? Speak to a Kal Tire expert and they'll help you do the math.
Tip #5: Switch Your Tires at 7 Degrees
The 7 Degree Switch campaign by Kal Tire is about getting people to understand that at or below 7 degrees non-winter tires start to lose traction, and handling and braking become difficult.
Start thinking about switching to winter tires in late September and take them off in May when the weather starts warming up. The first and last snowfalls of the year often tend to be the most dangerous because people aren't prepared. Be proactive and make your appointment early. Don't wait until snow flies, which is when tire shops get flooded, to switch your tires.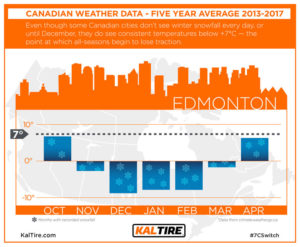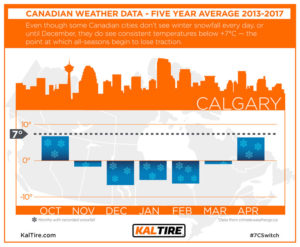 Tip #6: Check Your Tire Pressure Regularly
Maintaining proper tire pressure is how you get the best traction, ride quality, lifespan, and fuel economy out of your tires. Don't worry about adjusting to a different tire pressure rating when you switch your tires. If the tires are the same size, the pressure should still be the same. However, you will have to fill winter tires more often with air (as they lose more in colder temperatures).
Look for your recommended air pressure on the driver's side doorframe or in your owner's manual.
Tip #7: Learn How to Steer out of a Skid
Even if you have winter tires, you may find yourself in a skid. Don't slam on the brakes. Stay calm and steer in the direction you want the vehicle to go. Remember, icy roads are what winter tires are designed for. You're much less likely to experience a skid when your car is fitted with good winter tires.
Tip #8: Talk to a Tire Expert
While it would be great if everyone switched to winter tires, it's tricky to make a blanket recommendation for all drivers. Your decision may depend on how often you drive, severity of weather conditions (snow, ice, slush), type of roads you commonly drive (urban or highway), how often you drive, comfort level, and your budget.
The best thing to do is visit a Kal Tire location and talk to an expert to determine what tire best suits your needs. Plus, AMA members save 5% on tires plus other exclusive discounts.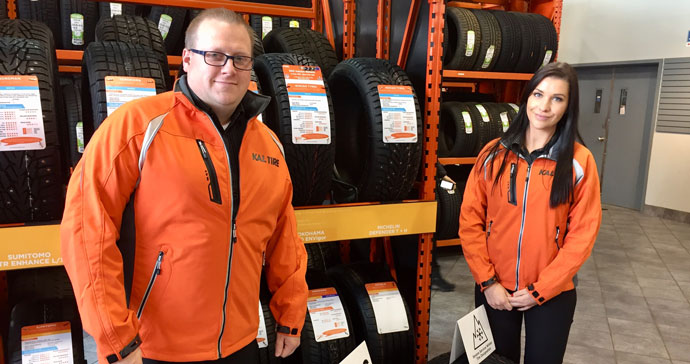 Get Your Vehicle Winter Ready
Winter tires? Check. Now see our handy list of things you can do protect both you and your vehicle once winter hits Alberta.