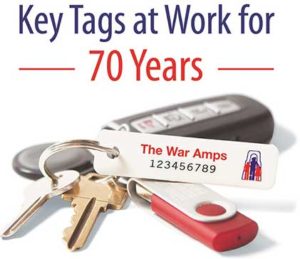 For the last 70 years the War Amps Key Tag Service has been returning lost keys to Albertans — in Canada about 13,000 lost keys each year. True to our AMA culture of helping you look after the things that matter most, this program is a great way to provide peace of mind that even if you lose your keys or remote starter device, they won't be lost for long (and you won't have to pay costly fees to get a new set cut).
The program is simple. Order your tags from the War Amps and you'll get a key tag to attach to your key ring. The key tag is coded with your confidential number, so if you lose your keys, the finder can easily get them back to you by either calling the toll-free number on the back of the tag or placing them in any mailbox. The War Amps will then return your keys to you by courier, free of charge.
If you find value in the program, you can choose to make a donation. Your donation helps the War Amps operate its many programs and services for amputees in Alberta. This includes the Child Amputee (CHAMP) Program, which provides funding for artificial limbs, regional seminars, and counselling. The War Amps receives no government grants.
To order key tags, please visit War Amps or call toll-free 1-800-250-3030.