Emergencies on the road can happen with little warning, so we recommend keeping a well-stocked roadside emergency kit in your car, just in case. Watch the video or print the list below to get your roadside emergency kit ready today, and remember to always carry a fully-charged cell phone so you can call for help.
Roadside Emergency Kit Contents
Booster cables
Ice scraper
Folding shovel
Sand / kitty litter
Fire extinguisher
Multi-tool (pliers, knife etc.)
Candles for light & heat
Waterproof matches
Tin can (to hold the candle)
Small first aid kit
Self-powered flashlight
Work gloves
Paper towel / rags
Warm clothing
A jug of water
Protein bars
Caution triangle for visibility
A warm blanket
A local map
Hand & foot warmers
Roadside Emergency Kits Available at AMA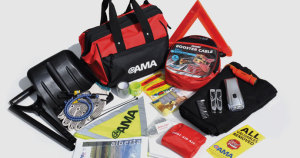 Roadside emergency kits, which include many of these items and a few more, are also available at any AMA centre.
Pick one up today so you'll be safe no matter where you go.