Published in the fall 2012 issue of Westworld
We have just pulled out of Winnipeg and are barrelling westward under a big blue sky. Perched in the observation car of VIA Rail's legendary transcontinental train, The Canadian, I gaze across the snow-covered prairie and listen to that lonesome whistle blow. There is no better way to connect with our nation's soul than a trip aboard this glistening, stainless steel bullet. It's almost as if you can feel the spirit of the land through its clattering wheels. The feeling is even sharper today because this particular train has an added element of Canadiana. We'll be picking up football fans at stops along the route, all of them bound for Vancouver and the 2011 Grey Cup – the iconic November game that serves as Canada's largest sporting event and a raucous celebration of our cultural identity.
Riding the rails to the Grey Cup has a long history, but the tradition assumed mythic dimensions in 1948 when the Calgary Stampeders qualified for the championship for the first time and travelled to Toronto to meet the Ottawa Rough Riders. Stamps fans chartered a 14-car train that included horses, a chuckwagon, a western band, Sarcee tribe members dressed in native regalia, 250 fans in western attire and an enormous supply of beer. After three days of partying, the crimson horde hit Toronto with gusto and continued to whoop it up, staging a pancake breakfast on the steps of City Hall and riding a horse into the lobby of the snooty Royal York Hotel, where they managed to get the animal's hoofprint on the hotel guest book. To top it off, Calgary defeated Ottawa 12-7.
Today, many Prairie pigskin fans still make the trip to the Grey Cup each year, renewing old acquaintances en route and attending the parties that precede the game (the latter being a bigger draw, for many, than the game itself).
After lunch, I return to the dome car and watch the prairie roll past: the winding contours of the Qu'Appelle Valley and Assiniboine River, grain silos, wooden farmhouses and herds of cattle. Everything about my rail experience so far, from boarding at Winnipeg's stately 99-year-old Union Station to the train's gourmet dining and Art Deco furnishings, reinforces the impression that I have slipped through a portal into the past.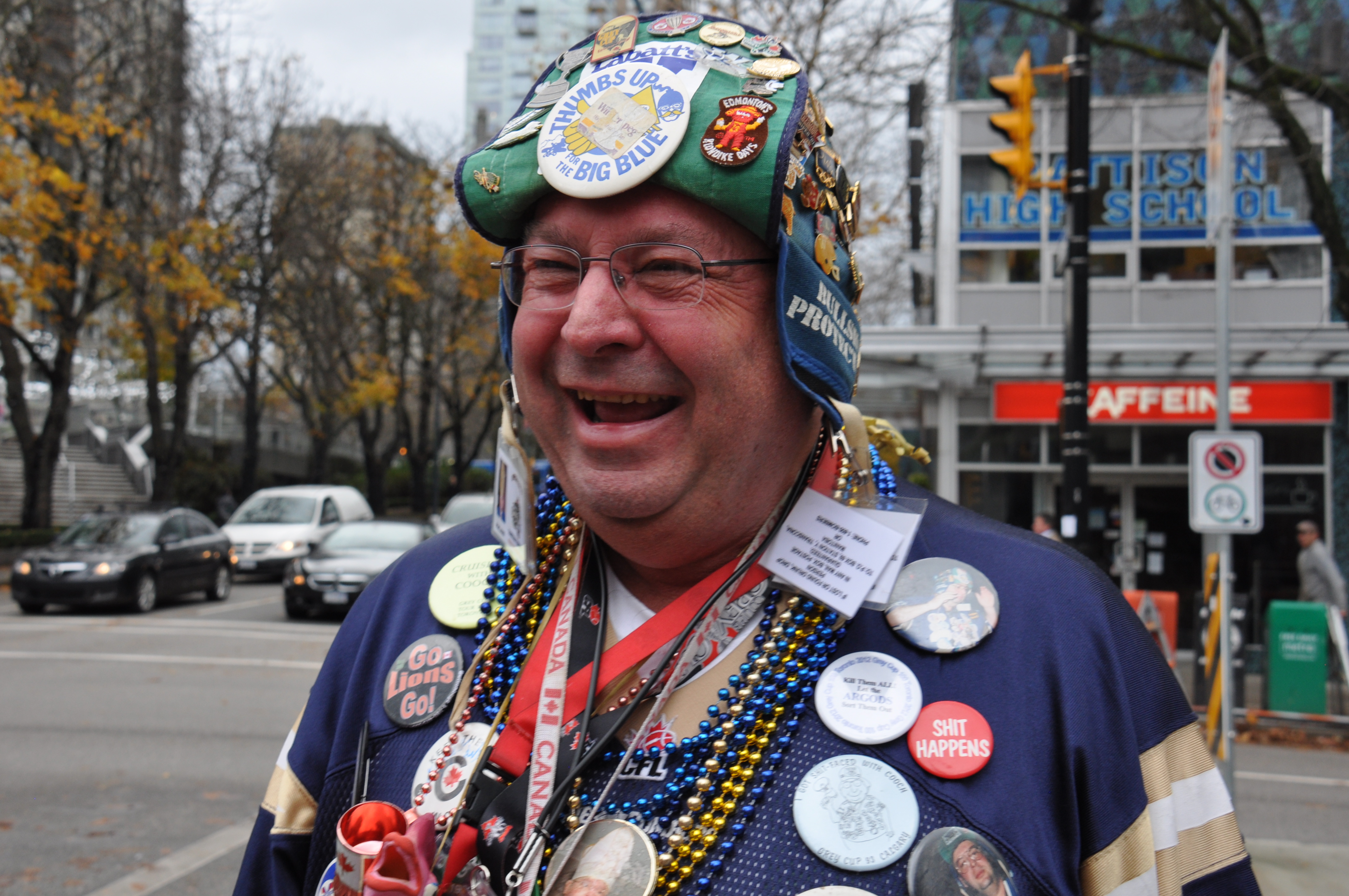 Most of Saskatchewan passes in darkness, but around midnight we stop in Saskatoon, where 70 Roughrider boosters, clad in familiar forest-green, board the train. Although Saskatchewan has won only three Grey Cups and plays in Canada's smallest market, its fans are generally conceded to be the most loyal and boisterous of any CFL team. Wearing watermelon helmets, face paint and hula skirts, Rider Nation fills stadiums on the road as well as at home and is responsible for more than half of the league's merchandise sales.
This group is here courtesy of Dash Tours, a Regina company that arranges transportation, accommodations and tickets for sporting and music events. David Ash, an eccentric entrepreneur who once served as the Roughriders' mascot, Gainer the Gopher, founded the company 34 years ago. Today, with his customary white helmet, red flashing light and giant Canadian flag, Ash is an instantly recognizable figure at major sporting events.
We shuttle into Edmonton as morning arrives. At the station, a group of Eskimos fans clad in green and gold climb aboard, along with a few Calgary supporters, wearing their iconic Smithbilts, cowboy boots and snappy red-and-black jackets. Normally, the two factions, who represent one of the league's most bitter rivalries, would keep their distance from one another, but today they indulge in friendly kibitzing. This camaraderie between adversaries is one of the appealing aspects of the Grey Cup, says Edmonton Eskimos booster Brian Helm, who has joined the group with his wife, Sherry, and pals Kevin Greene and Brian Matthews.
"We wear our team colours, but we come to celebrate Canada and the CFL," says the 49-year-old Helm, who began attending Eskimos games at age 10 as a member of the Knothole Gang. Back then, kids aged six to 12 could sit in a supervised section sponsored by Woodward's department store at one end of Clark Stadium and watch the action for 50 cents. "My mother would drop me off there and then pick me up after the game," he recalls. Time has not dimmed his enthusiasm for the Eskies. This will mark the 10th consecutive Grey Cup that Helm has attended. "Back in 2002, when Edmonton hosted the game, my buddy [Greene] and I decided that we would see Canada through the Grey Cup. I've now been to all the CFL cities except Hamilton."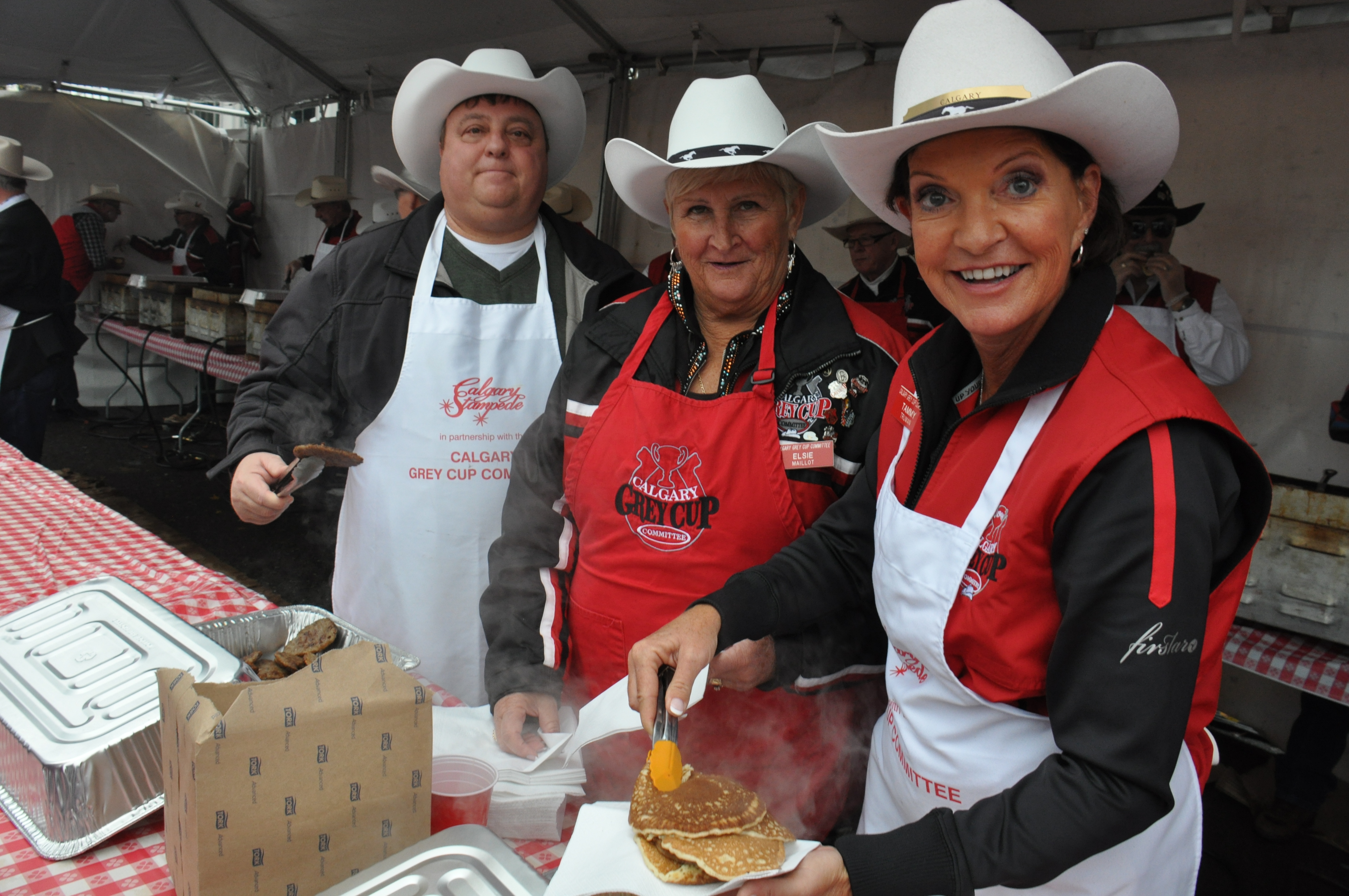 At noon, I visit the train's economy section, where Rider Nation has set up camp in the bar car. "Welcome to the sea of green," says a florid-faced celebrant, holding a cup of beer aloft. He's not exaggerating. Most of the passengers are sporting Roughriders regalia and most know one another from previous Grey Cups. Coming together like this is an annual ritual.
We reach the Rockies as the light is dying, but what we do see of Jasper National Park is awe-inspiring: crenellated peaks, hulking glaciers and vast evergreen forests. As we rumble into the violet dusk, I catch a glimpse of wolves tearing at a carcass on a frozen lake.
An hour in Jasper allows us to stretch our legs and explore the snow-lined streets. I wander around taking photos of the rustic buildings until it's time to board. Amid the crowd is a new influx of Edmonton and Calgary fans. The Eskimos rooters wear green and gold windbreakers inscribed with a double E, while the Stampeders faithful are attired in white cowboy hats and flashing red LED sunglasses. "Is this the crazy train?" one asks. "I sure hope it is."
Downtown Vancouver has been invaded, its rain-soaked streets flooded with celebrants, many wearing outrageous getups. There are men in old-time leather football helmets and full-length fur coats and women with spray-painted orange hair and homemade lion costumes. There are guys decked out in kilts and hardhats and others sporting Kabuki makeup and fright wigs. All of the Western teams are heavily represented in this bizarre fashion fest, with fans clad in costumes that reflect their teams' colours and nicknames.
Friday morning at Terry Fox Plaza, members of the Calgary Grey Cup Committee are serving free pancake-and-sausage breakfasts while a four-piece Western band serenades the diners. The weather is overcast, but not too cold, and there are crowds grooving to the rock bands performing at the nearby Telus StreetFest concert stage.
There is also free entertainment in the Nissan Family Zone next to the Olympic Cauldron, but the big name acts, such as Sharon Jones, Colin James, and the Fabulous Thunderbirds, are booked into Molson Canadian House at Vancouver Convention Centre West, where tickets go for $35. However, there's no admission charge to tour the Scotiabank Football Experience at the same venue, where the options include viewing exhibits from the Canadian Football Hall of Fame and Museum, autograph sessions with CFL stars, a meet-and-greet with the on-air personalities at the TSN Broadcast Desk and an interactive area where prizes can be won by tossing a football through inflatable targets.
In addition to the cavalcade of corporate-backed Grey Cup Festival events, all eight CFL cities are hosting parties in town. These attract not only the teams' loyal fans but supporters from all corners of the league. This sense of friendship between rivals is unique to the Grey Cup, notes Spirit of Edmonton chairman Keith Keating. "We do something in Canada that I have yet to see anywhere else in the world – we fill a city with people from all over the country, dressed in their team colours, all cheering for different teams, yet celebrating together without incident."
This year (2011), the Spirit of Edmonton – an organization that promotes not only the Eskimos, but also Edmonton and Alberta – is staging its Hospitality Room at the Sheraton Wall Centre, eight blocks away from the other team parties. "We believe that we help make the celebration bigger and better for everyone by hosting our event in a different location," says Keating. Partnering with a hotel allows the organization to keep the event cover-charge-free (unlike other teams' gatherings).
Which means it's popular. This year, fans have booked around 800 rooms in the Sheraton, and Keating estimates that 5,000 visitors will pass through the party's doors each day. Over the course of the festival, performances by cheer teams, dance troupes and live bands – including Vancouver acts Dr. Strangelove and Side One, plus Moncton outfit Spoiled Rotten – keep the premises packed to capacity. "On Thursday nights we seem to be the meeting place for people from all over the country and fans of every team, and many of them have not seen each other since the last Grey Cup," says Keating. "It's truly something to witness."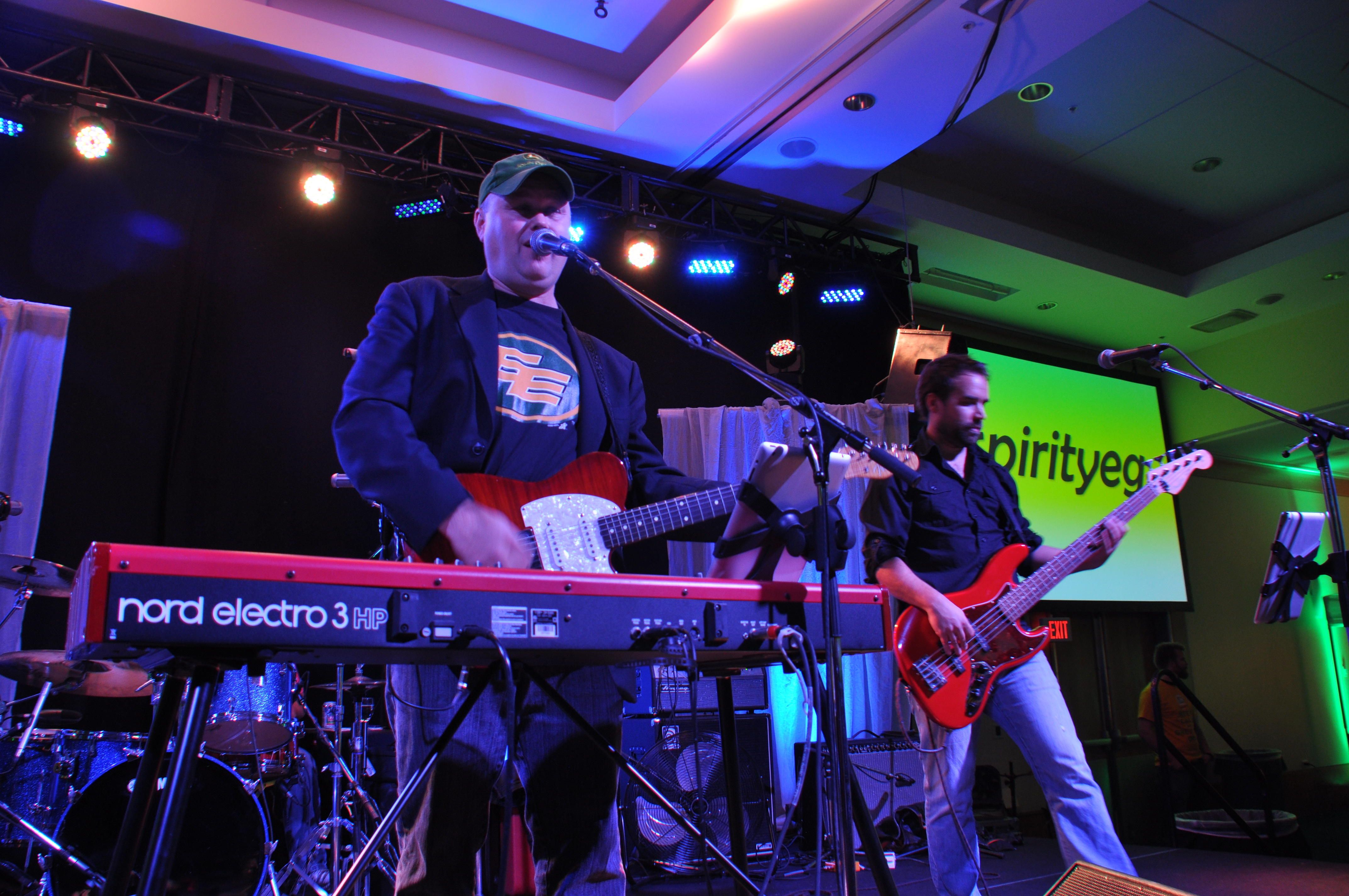 Stamps House has the swankest setting of the team parties – the third floor of Vancouver Convention Centre West, in a huge, curving room with floor-to-ceiling windows that afford a panoramic view of Burrard Inlet. "I personally scouted out this location last year," says Valerie Pek (now former) director of marketing and corporate sponsorships for the Calgary Stampeders. "We really wanted to throw a great party for our fans." The celebration features a rock band and a dance floor, a buffet and a bar, a corporate VIP pavilion and guest appearances by Stampeders players. But all these attractions are forgotten when Cowtown's iconic horse and rider make a guest appearance. Flashbulbs explode as the big chestnut parades about on the carpet and poses for photos, continuing the tradition that began in 1948, when Calgary alderman Don Mackay rode a horse into the lobby of Toronto's Royal York Hotel.
In Saskatchewan's case, the celebration is not confined within four walls. On Friday night, the Roughrider Pep Band takes over a spot on the steps outside the convention centre and launches into a rousing rendition of the Neil Diamond hit "Sweet Caroline." Passersby stop and stare at the green-garbed contingent, a grassroots novelty act in the midst of slick, urban sophistication. As the band wails away in the chilly salt air, inside the convention centre the ever-popular Riderville party is in full swing. In recent years, Riderville was such a hot ticket that people waited for hours to gain entry. This year's shindig, staged in an airplane-hangar-sized hall, has room for everyone. Wearing my complimentary Mardi Gras beads, I watch a gravity-defying performance by the Roughriders Cheer Team, then take cover as the hall is engulfed by the sonic assault of a rock band called Kick Axe.
One of the liveliest gatherings kicks off not at night, but at 8 a.m. on Saturday. The occasion is Spirit of Edmonton's Grey Cup Breakfast, which has been running since 1975 – an event so eagerly anticipated this year that all 900 tickets were snapped up months ago, prompting organizers to book a second breakfast on Friday, which also sold out. And all this despite a hefty ticket price of $100. By 10 a.m., when a rock band takes the stage at a ballroom in the Wall Centre and starts belting out '80s tunes, we have already witnessed a speech by Alberta Premier Alison Redford, an appearance by Miss Canada and a dizzying series of performances by CFL cheerleaders, a Polynesian dance troupe, a Scottish pipe band, Ukrainian folk dancers and world champion Cree hoop dancer Dallas Arcand.
Later that morning, steady rain fails to deter a large throng from attending the Grey Cup Festival Parade and its quirky procession of marching bands, majorettes, bagpipers, football floats, costumed mascots and local celebrities such as the "B.C. Booze Brothers." Parade participants since 1983, they are dragging an effigy of Winnipeg quarterback Buck Pierce from the bumper of their replica Bluesmobile, a battered, black, '72 Dodge Monaco.
From my seat in the upper bowl of B.C. Place Stadium, I watch 54,000 spectators performing the wave. The synchronized motion seems oddly out of date in this glittering, state-of-the art stadium, which was recently renovated at a cost of $563 million. The world's largest cable-supported retractable roof is closed today, but afternoon sunlight streams through the windows beneath the roof, bathing the crowd in a warm, cathedral-like glow.
Although orange is the most visible shade in the patchwork of team colours in the stands, I'm surrounded by the green Rider troop from Dash Tours. Unable to bring themselves to pull for their arch-rival Blue Bombers or the dome-dwelling Lions, they tell me that they're simply rooting for a good game, a novel perspective that strikes me as unique to the Grey Cup. In fact, this may be one of the few sports championships where, for a majority of fans, enjoying the experience takes precedence over who wins or loses.
Of course, keeping score is still serious business for the players, as the bone-crunching collisions taking place on the gridiron confirm. At half time, the Lions lead by six points, one less than the oddsmakers' official point spread. A trip to the beer concession is the logical move at this juncture, but I opt to stay put for Nickelback's pyrotechnic halftime show. The haze left in the Alberta rockers' wake lingers for 15 minutes, and by the time it finally lifts, it is clear that the Bombers are no match for either B.C. or the bookies. The hometown squad pulls away and cruises to a 34-23 victory. In the aftermath, the police form security lines, TV cameras shift into position and two Mounties in red serge, accompanied by a flourish of trumpets, carry the Cup to a stage. The Lions hoist the trophy in jubilation as confetti cannons boom, enveloping the field in a swirling blizzard of orange and white flakes.
By Kerry Banks