by Andrew Findlay

There are no secrets on Carrer Sorrall Street. Three-storey apartments snuggle so closely here that I can crack our cozy living room windows, reach across the street and nearly high-five Dona Santi, our 60-something neighbour, who closely monitors the neighbourhood. We're in Arbucies, Spain, a small town in Catalonia, about an hour's drive north of Barcelona. While Lisa and I sip espressos, our daughters Zola and Sabine, age five and two respectively, carry on a now-familiar repartée with la Dona.
"Hola guapas!" la Dona says, prompting the same greeting from the kids, who then hide giggling behind the curtain.
We ascend to the rooftop terrace to bask in the morning sun. Clay-tiled roofs glisten from last night's thunderous squall, and the Romanesque clock tower next to the tiny town plaza, a few blocks away, chimes for morning mass. Puffy white clouds, remnants of the fall storm, scud across the blue sky and cling to the peaks of Montseny above the town, its slopes cloaked in beech trees showing the first rusty signs of autumn.
Six months earlier, my wife and I had hatched a plan to check out of life in Canada, pack up the kids and immerse in another culture and language. Our criteria were simple: the destination had to fit our modest budget (we wanted accommodation costs to roughly match what we were earning in rent from our home in Canada – roughly $1,000 per month.) We also sought a country with sunny and warm fall weather, and an accessible language. Our sights fell on Spain, which was affordable by European standards and also rich in culture and geography. After a few weeks of online research, we scored a rental for the first half of our trip in Arbucies, a working-class town so obscure that it didn't earn a single mention in the travel guides. Perfect. After a month there, we'd head to Lanjarón, a village in Andalucía – that rugged and sun-dappled region in southern Spain, for another month.
Lisa and I had both travelled and worked in Europe before, but this was our first time in Spain. My knowledge of the country was sorely limited, acquired mostly from reading Ernest Hemingway's For Whom the Bell Tolls, watching FC Barcelona and Real Madrid battle it out in "El Clásico," as well as recent news reports of the country's crushing economic fortunes.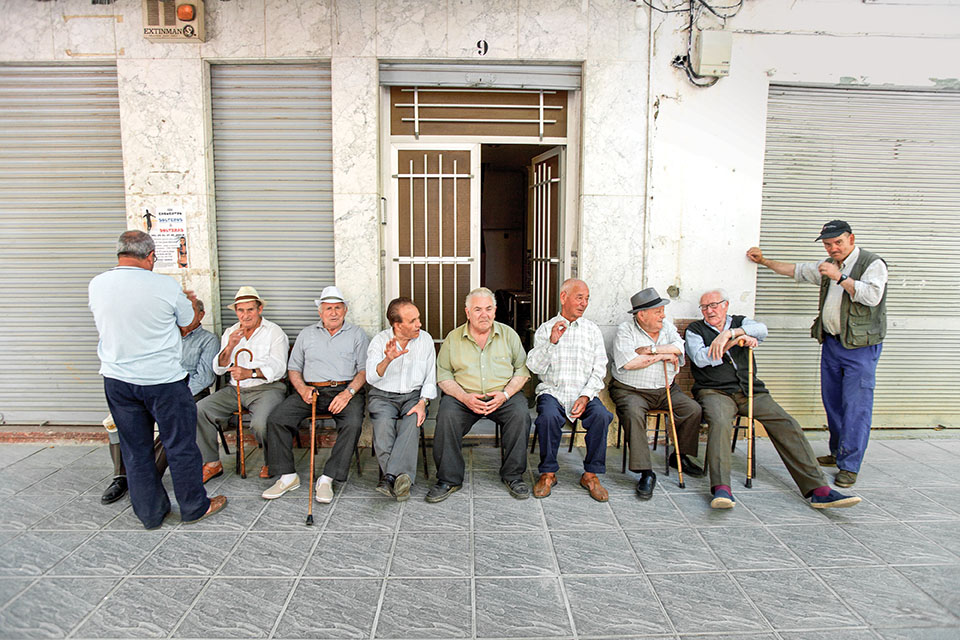 As is my morning ritual, I descend to the street to buy fresh croissants, a newfound dietary staple. In the landing, I run into Jaume Paimes-Flack, the friendly, lanky Barcelonan who owns the flat we're renting. Like most Catalonians, his first language is Catalan, a Latin derivative spoken on both sides of the Pyrenees Mountains, which span the northern border of Spain. The desire for sovereignty has simmered close to the surface of Catalonian consciousness since dictator Francisco Franco seized power in 1939 following the brutal Spanish Civil War, a regime that lasted until his death in 1975. Jaume tells me that the bull is the national symbol of Castilian Spain, and the donkey is the patriotic mascot of Catalonia, perhaps emblematic of a dry Catalan sense of humour necessary to endure decades of frustrated nationalist ambitions.
I exit the flat and soon spot the stern-looking señor whom I see every day in the same spot, wearing the same blue slacks and brown cardigan, assuming his post on the corner of Riera and Sorrall. I offer up my daily "buenos dias," determined to extract a smile. As usual, he looks as startled as if an alien had landed at his feet. We are, to put it mildly, an anomaly on this street: a Canadian couple with two blonde kids in a neighbourhood of Catalonians and immigrants from Morocco, Romanian, West Africa and elsewhere.
The scent of fresh baking mingles in the air with exhaust from a passing motorbike. A trio of West African women in colourful dresses chat outside the bakery, their attire a sharp contrast to the reserved style of typical small town Catalonia. Kids race around on skateboards and scooters, dodging cars. Our children have struck up friendships with these boisterous ragamuffins, using the universal language of play to communicate. Food is my universal language; daily outings to gather ingredients for cooking back at our flat is my way to meet locals and speak Spanish, rusty since my last trip to Ecuador a few years ago. My next stop is Queviures Cal Gall, the local butcher. Like a scene from a vegan's nightmare, pork is as ubiquitous in this country as olive groves and sunny skies; massive legs of Iberico ham hang in thousands of butcher shops.
"My husband makes the sausage right here in our kitchen," the señora tells me. "No y chemicos." No preservatives. I leave with a few links of this local delicacy, called llonganissa.
The rhythm of Spanish life takes considerable adjustment for North Americans. Streets bustle with morning activity; people shopping, commuting and socializing. By mid-afternoon, these same streets transform into a ghost town as shopkeepers draw metal shutters and citizens settle in for a sprawling lunch followed by that national pastime, the siesta. Then, in the early evening, people fill the streets again to shop and socialize before family meals that begin as late as 10 p.m., an hour that would render most Canadian children inconsolable and unfit for public spaces.
One day, provisioned with sausage, cheese and pastries, we set off to explore Castell de Montsoriu, an impressive, semi-restored castle near Arbucies. Besides a young couple with a baby, we're the only ones on this windy hilltop fortification. The castle was once the northernmost outpost of the Moorish occupation of Spain, which began in 711 and lasted through to the 15th century. Spanish history is infinitely complex, a layer cake of Phoenician, Greek, Roman, Moorish and Catholic cultural and architectural influences.
Arbucies has served as our base for exploring the surrounding Catalonian countryside and coastline. Later that afternoon, we drive up the long, meandering road into the Montseny Nature Reserve. Because it's the weekend, pelotons of recreational cyclists own the road. But wild-mushroom collecting takes a close second to athletic pursuits at this time of year. Entire families are out filling wicker baskets with boletes, chanterelles and other wild varieties. We park at a trailhead, and then coax our kids into a hike – one in the backpack carrier, the other in between us holding our hands. After an hour of walking uphill through leafy trees, we break out into open pastures where sheep are grazing. The wind carries an earthy smell as we shelter on the lee side of a concrete weather station bunker on Montseny's summit. We snack on la selva, a creamy goat cheese typical of the region, and dark chocolate, while scanning the Costa Brava, 30 kilometres to the east, looking for the beach town of Tossa de Mar and its medieval walled city, which we had visited a few days ago. To the south lies the hazy sprawl of Barcelona, the magnificent capital of Catalonia.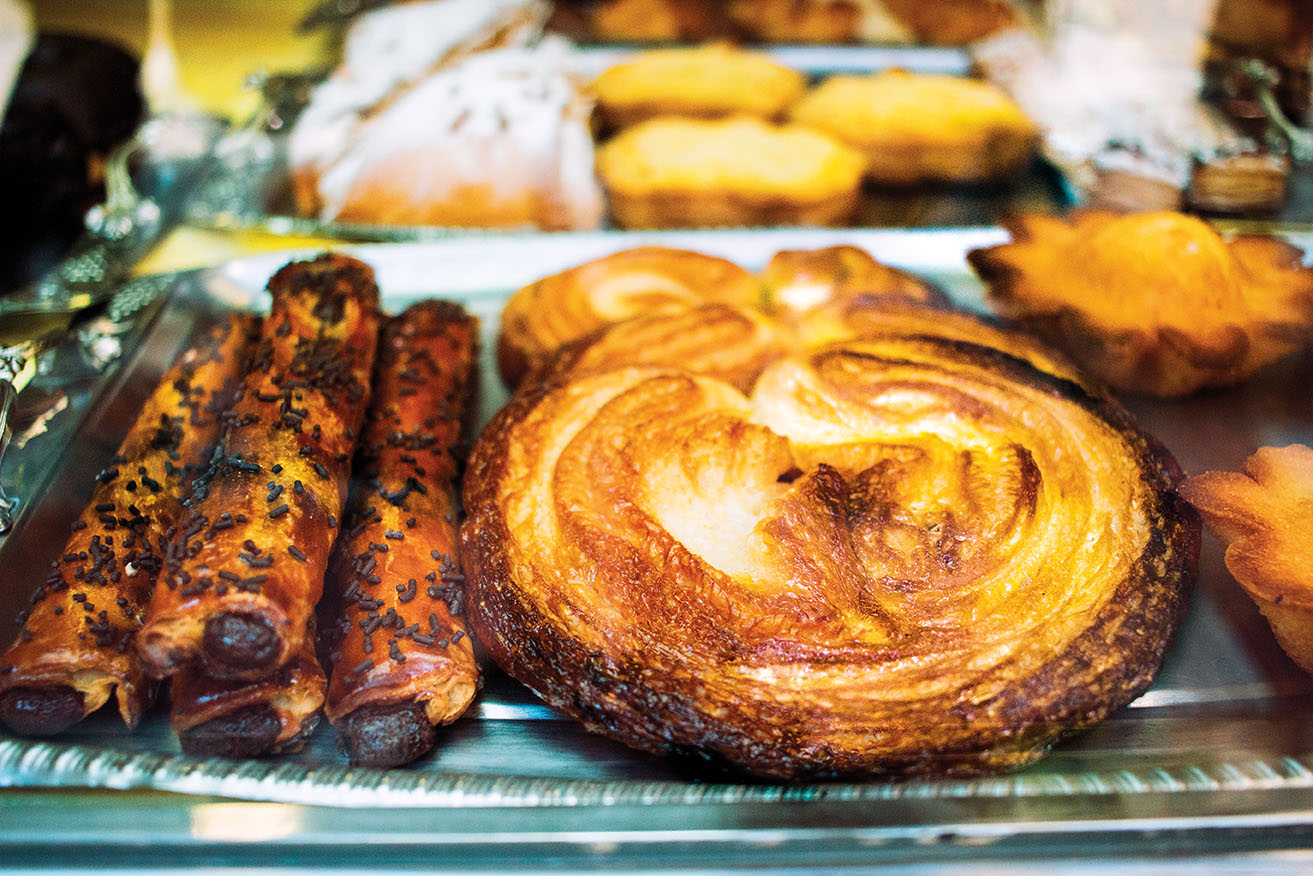 The weekend before our departure for the south, the Fira de Tardor del Bolet, the mushroom festival, transforms Arbucies into a carnival. Main Street is closed to traffic, making way for vendors selling baking, sausage, dried and fresh mushrooms, mushroom-flavoured mustard and tacky clothing. A man with a handlebar moustache pedals an ingenius human-powered horse carousel, charging two euros per kid for a ride. The plaza is elbow to elbow with festival-goers. Mushrooms of all shapes, colour and sizes are artfully displayed around the central fountain. Local women sell a delicious stew of beef and sautéed boletes while a troupe of medieval musicians dressed in leather and leotards, and playing the lute, hand drum and fiddle, parade through the crowd. Our kids look on wide-eyed at the action. We stop at a stall manned by an ancient-looking gentlemen, his face as wrinkled as a dried mushroom. We buy some wild mushroom mustard to take with us. "These people sure love their mushrooms," Lisa says as we return to our apartment to start packing. The next morning we hit the road early for southern Spain.
Our apartment in Lanjarón occupies all four stories of a centuries-old townhouse and is mere steps away from the town's Fountain of Youth. It's noon on Saturday. Zola and Sabine chase a soccer ball around Placeta de Santa Ana while Señora Carmen, a wizened octogenarian, fills water jugs from the fountain already receiving a steady flow of visitors for a cleansing morning sip.
Lanjarón, an hour's drive from the city of Granada, is known for its healing waters and the longevity of its vigorous citizens, many of whom live to a century or more. And there is not one public fountain but many throughout the town, most of them bearing the words of Frederico García Lorca, Granada's beloved poet, playwright and activist who was murdered by fascists during the civil war.
Mary Meade, the Englishwoman who owns the apartment we're renting, has been living and teaching English in Lanjarón for 20 years. She joins us for morning espressos on the rooftop terrace, that wonderful feature of most Spanish apartments, to give us an orientation in local social dynamics. "The courtyard has ears and eyes. It knows when you wake up, when you have lunch and when you go to sleep," she says with a laugh.
The sky is a deep blue, but a brisk wind sweeps down from the lofty Sierra Nevada. Below town the crumbling ramparts of a castle, another monument to the Moors, seems glued improbably to a rocky outcrop.
Early one evening I walk with Zola to buy bread and cheese before strolling to the central plaza. Old folks huddle on benches in the fading evening light socializing, gossiping and discussing politics.
I spot a cluster of teenagers and adults on mountain bikes up a side street. We wander up to investigate and meet Fran "Gato" Ruiz, sleeves rolled up, hands blackened with chain grease, working in a cramped, low-ceilinged shop not much bigger than a closet. Fran owns the only bike repair business in town. I ask him if he rents mountain bikes. He says no, but he's going to Granada early the following morning and offers to rent one, and then take me for a tour of local trails. "We meet in the plaza at around 11, si?" says Fran.
I'm happy to indulge his generosity. The next morning, I meet him as promised. After adjusting the seat on the rental bike, I am soon following him up the steep cobbled streets of Lanjarón, feeling like a guy who has spent too much time in tapas bars. We pass the institutional-looking Hotel Balneario with its legendary mineral baths. Beyond that, a dirt road leads out of town, ascending with unrelenting steepness toward a Sierra Nevada peak called Tello. I pause on a switchback for a breather and gaze into the deep Rio Guadalfeo valley. On distant ridgetops, modern windmills are lined up like science fiction giants.
Fran speaks very little English but my Spanish has improved to the point where I can converse with him, even dabble in political discussion. I explain how my family and I were in Catalonia last month when the region's inhabitants took an historic, but symbolic, vote for independence. More than 80 per cent were in favour of separation. "Estan loco. They're crazy," Fran says, succinctly summarizing his opinion of Catalan nationalism.
After what seems like an eternal climb toward the mountaintops, Fran steers his bike between two stonewalled shepherd huts and onto a weaving dirt trail. After 10 minutes of rapid descending, we traverse through another ancient-looking farm, then onto a steep path of cobbled stones.
"This is an old Roman trail," Fran says, before disappearing around a corner. Such is the magnificent, multi-layered history of Spain, for now beneath the tires of my bike. Without the benefit of a local's knowledge, to me this would have been just a rocky path in the Sierra Nevada.
After six weeks in Spain, I'm finally beginning to understand the intimacy and conviviality of Spanish civic life, obtrusive to some no doubt, but a quality I find oddly endearing. We also have embraced the Spanish tradition of a family evening promenade. Many times I have pondered this country's unusual timetable, the national tradition of a solid afternoon siesta and a late dinner that puts it so out of step with the rest of Europe. And as cynical as Spaniards can be about the fortunes of their country, they have a joie de vivre that is infectious. Lisa and I share a few tapas of fried potatoes and calamari at a café conveniently located next to a playground to entertain the kids. Later we stop for some promised gelato. Couples walk along the sidewalk arm in arm, wearing down puffies and bracing against, what in southern Spain is considered a brisk breeze. Conversely our kids are in T-shirts and eating ice cream (tough Canadians, I suppose.)
"No tienen frio?," a woman says, meaning 'you're not cold?' in English, shaking her head then laughing before giving Sabine a gentle pinch of the cheek.
Later, as our kids chase down a balloon given to them by the girl at the ice cream shop, the slight chill on a late autumn evening in southern Spain washes over us.
I think of home, which we left nearly three months ago. Our friends are knee-deep in a Canadian winter. But tomorrow we head to the Costa del Sol with bathing suits, blanket and picnic basket.