Distance from Edmonton: 1 h 41 minutes
Duration of Activity: 1.5 hours (walk); 7.5 hours total
Cost: Free
For this leg of our Alberta road trip, we planned to visit Red Deer for a walk around the Gaetz Lake Sanctuary, with stops at the Big Bend Market and Sugar Free and More beforehand, for some gluten-free and diabetic-friendly food items. But arming ourselves with printouts of Google maps and no data plan on our phone may have been a mistake. We really didn't think this one through and our trip quickly turned into our own National Lampoon's Summer Vacation.
First, Google's called the highway turnoff by another name, so we missed it and ended up in Gasoline Alley. A few minutes later (after a few more missed turnoffs, thanks to the missing street numbers in our directions) and we found ourselves in a new development. Not exactly where we wanted to be, so I turned us around while my husband David scanned our tiny map and figured out how to get us to our first pre-lake stop.
Big Bend Market
Our first stop, Big Bend Market, specializes in local healthy products, selling meat, cheese and condiments. The market also supports local Alberta farmers and producers. We had fun looking over their decent selection of gluten-free options and chatting with the friendly staff while David grabbed a homemade sandwich and old-fashioned root beer for our picnic lunch. "It's definitely not a Subway sandwich!" David announced. According to David, you can taste the freshness of the locally produced cheese, meat and vegetables (and his taste buds hardly ever work). So kudos to Big Bend Market.
Sugar Free and More
Making the three-minute drive down the street to our next stop should have been a breeze. Except we didn't realize that, "Destination will be on right in 140 meters" meant to take a hard right the minute we turned off of Gaetz Ave, so we ended up again in a residential neighbourhood. Le sigh.
Pre-lake stop number two was Sugar Free and More, a little shop that specializes in gluten-free items and products safe for diabetics or people following low-carb diets. From a gluten-free perspective, this place is a goldmine. Especially for a store so small, the selection is impressive (and a bit overwhelming). To compete with the larger stores, Sugar Free and More supplies items not commonly found at our local grocery stores back in Edmonton. They're even the only store in Alberta to carry Little Soya travel packs, so we were sure to stock up and even had some friends placing orders with us.
Gaetz Lake Sanctuary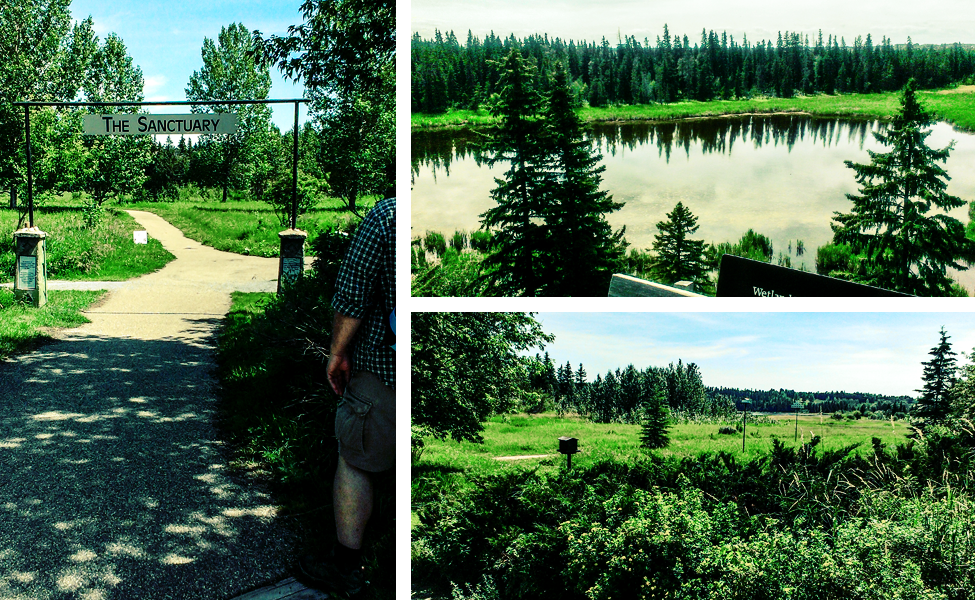 Finally, we were on our way to our main destination, the Gaetz Lake Sanctuary — but first, another detour, this time due to construction. The detour road wasn't clearly marked and we found ourselves back on Gaetz Ave. Good grief.
Eventually, our perseverance paid off. Since 1924, the Gaetz Lakes have been protecting migratory birds, and today the sanctuary is also a refuge for native plants, deer, moose and other wildlife. And was that a Sasquatch we saw? This walk was going to be full of surprises.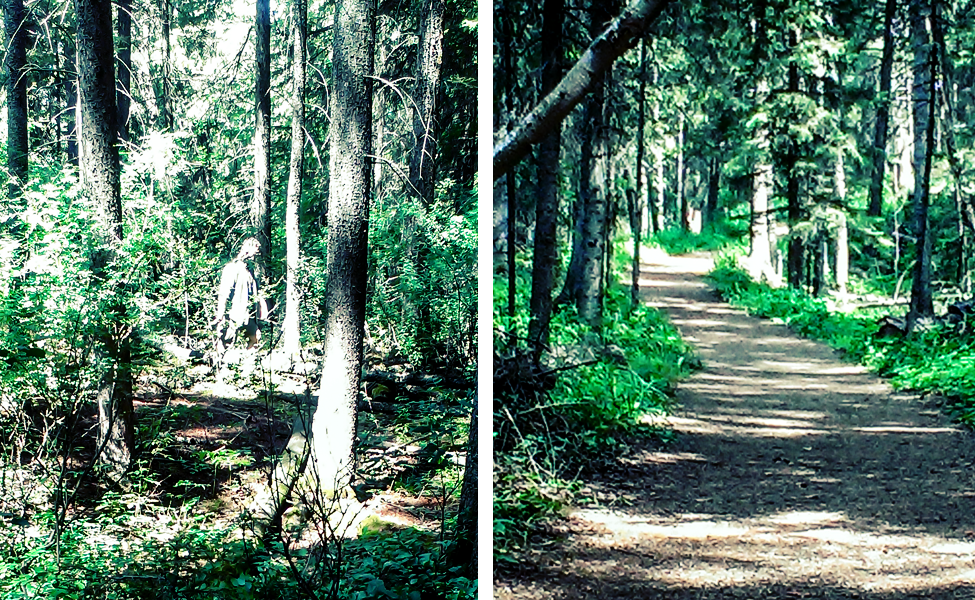 From ground level, you'd think you're just going on a quick loop around the tree-lined lake. That's what we thought, at least, but boy were we in for a big surprise. Especially if you're like us and ignore the recommendation to tackle the path clockwise (in our defence, we saw a deer). There's an incline involved in this walk and on top of that you'll be facing stairs. A lot of them. If walking up stairs isn't your thing, again, head clockwise.
Just Like the Mountains
Once you tackle the first set of stairs and the trees close in around you, you'd never know you weren't hiking in the mountains. Especially when the noise of the traffic fades and all you hear is the chirping of birds and the flapping of insect wings (why hello, instant relaxation!). And then come more stairs. First set tackled. Good. Set number two: done. Oh, look, there are more! And these ones warn of a nearby wasp nest. Clockwise, Krista, clockwise next time. Best to walk as quickly and quietly as possible, just to be safe. Our urban hikes hadn't quite prepared us for this.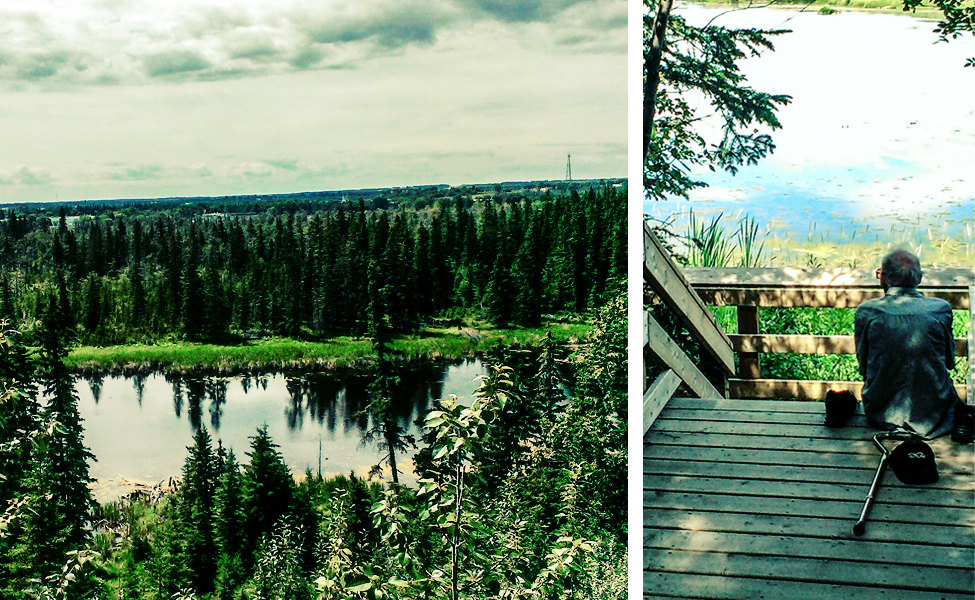 But once you get to the top, you're able to take in the view of the lake and a complete view of Red Deer. Words can't describe the beauty of this view. Take a minute or two, or three to sit on the bench and just soak in the view (or nonchalantly catch your breath) before making your way back down. From up here you can look down upon the lake, stare forever at the big Alberta sky, or gaze at the City of Red Deer surrounded by a nearly endless supply of trees. The Red Deer valley stands out from up here adding to the quaintness of this beautiful rural city.
It Wouldn't Be Red Deer if We Weren't Lost
We got lost every step of the way, so we should have expected to also get lost on the way home. Don't let a hectic week and numerous distractions keep you from properly planning your route — and always figure out how you'll get home again. Sure, you could just backtrack your original steps (not as easy as it sounds when you've been lost most of the day), or you can just throw caution to the wind and listen when your spouse tells you to just head north on 48 Street towards Blackfalds and Lacombe. Eventually, we did safely make it back to the highway, but not before a lot of reflection around planning ahead.
Lessons Learned
Map out your route before you leave and don't put all of your hope and trust in Google Maps. Sometimes the Googlebot likes to play tricks!
Be open to recommendations from friends, family, and co-workers because you may discover a new store or destination in a place you never thought of visiting (or enjoying) before.
Fully research the area before you arrive. We found out afterwards we could have rented paddle boats, gone down a guided tour of the river, or planned for some time poking around downtown. I see a second (or third) visit in our future — Red Deer hasn't beaten us yet!
My Alberta Road Trip (a Series)
Every Friday this summer, Krista, an AMA Web Content Specialist, and her husband David are discovering the sights and experiences that make Alberta great. Follow this blog series to find fun, unique, and cheap activities around Alberta.
Want to see what else we get up to this summer? Come back every week for a recap of our most recent adventure.
My Alberta Road Trip: