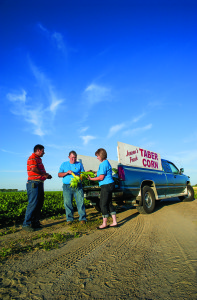 Throughout late summer and early autumn, the darling of Alberta's harvest – Taber corn – leaves the farm, popping up on roadsides, in parking lots and at farmer's markets across the province. Sink your teeth into a juicy, ever-so-sweet Taber cob and you'll know why many Albertans have long considered it the best corn around.
"It has a reputation," says Robert Spencer, commercial horticulture specialist at the Alberta Ag-Info Centre. "The heat and cool nights often contribute to sweeter produce. It isn't that no one else can produce corn as sweet; it's just that Taber can produce lots of it every year."
Patrick Shimbashi, a corn grower in the Municipal District of Taber, agrees, attributing the distinctive flavour and bumper crops to a serendipitous mix of plentiful sunlight, cool nights, sandy soil and sound irrigation.
"We have a network of canals and pipelines that feed the farms in Southern Alberta, and this irrigation belt runs from Lethbridge to Medicine Hat," says Shimbashi. "There's a lot of small growers, and about four or five main corn growers in the Taber area."
That said, it's not uncommon to encounter sellers who falsely claim to be selling corn from Taber – ask to see a certificate of authenticity, granted to reputable sellers by the Alberta Corn Growers' Association, to be sure you're peeling the ears off genuine Taber corn.
– Shauna Rudd