Distance from Edmonton: 25 minutes
Duration of Activity: About 5 Hours
Cost: Varies (Depending on What You Do)
Nearly every Saturday morning, David and I head to St. Albert for fresh produce from the farmer's market (and maybe the odd cookie and pie, too). But beyond that, we haven't spent a lot of time exploring what the city has to offer. That all changed this past Friday, and we discovered St. Albert, besides being named Canada's Best Place to Live in 2014, is a city full of surprises.
St. Albert Botanic Park
The St. Albert Botanic Park is located a short drive north of Downtown St. Albert. This free-admittance, 5-acre park is a gorgeous sight to see, whether you have a green thumb or not. It's divided into 19 unique gardens, every plant is labelled, and all have a zone 3 rating so you know they'll grow in our northern climate. I have a dream (fantasy may be a better word) that my garden will look as good one day. The Cottage Garden was my favourite because it is the garden of my dreams — non-assuming flowers overlapping each other in an organized, overgrown mass of colour and beauty. Sitting in this garden (and taking a ton of pictures) gave us some good ideas to try in our garden next year, like maybe adding a Delphinium to our assortment of daisies, goat's beard, and day lilies.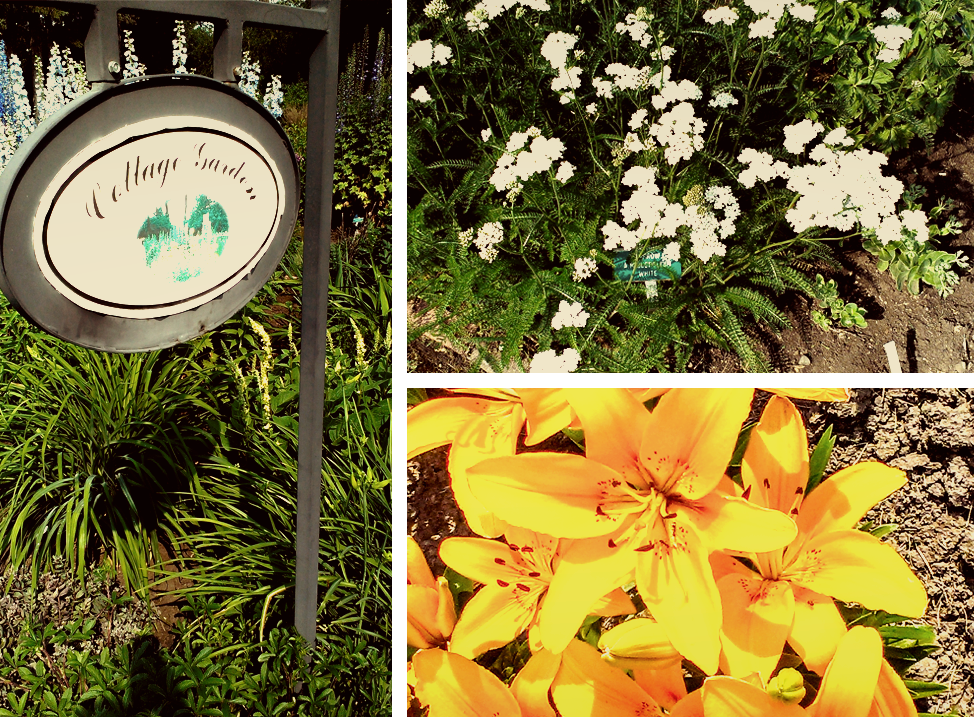 Tours take about 45 minutes and are self-guided, so be sure to drop by the gift shop and pick up a free map before you jump in. Most importantly, bring a camera for some great photo opportunities, or to just snap a pic of plant you'd like to add to your garden. There are plenty of places to stop and sit, so bring along a picnic lunch and enjoy a meal al fresco style at a picnic table or right there on the lawn, amid all of the natural beauty.
A Nearly Never-Ending Trail System
We had no idea that there are over 85 km of recreational hiking and bicycle trails in St. Albert. David and I enjoy urban hiking throughout our community in Edmonton, so are always on the lookout for new trails to explore. We took a quick stroll from the Botanic Park towards downtown St. Albert, stopping along the way to take in a stunning view of the Sturgeon River before stopping at La Crème Café. The café offers gluten-free menu items that I was able to get tweaked to support my ever growing list of food intolerances (it's challenging finding something to eat that doesn't include garlic and/or onions). They also have the most amazing gluten free cupcakes I've ever eaten!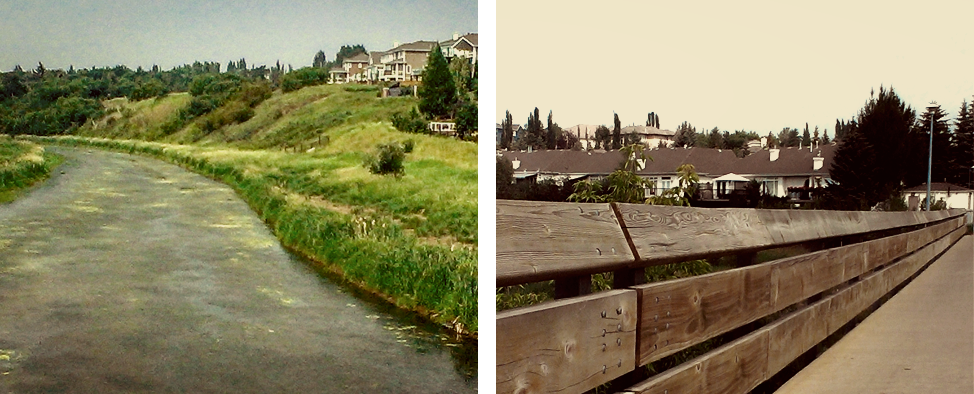 A City Washed in Green
If the city of St. Albert had a favourite colour, it would be green. Seriously, there are trees and plants and shrubs everywhere; they almost put Edmonton's river valley to shame. Everywhere you look it's green, green, and more green — I almost couldn't take in all the beautiful scenery, there was just so much of it. And despite this summer's lack of moisture, even the trees were full and lush and created an amazing backdrop when we visited.
History Lives Next Door
We got sidetracked exploring downtown by a sign that read: Historical Sites. Historical sites in the middle of a neighbourhood? This we had to see. From homes built in the 1880s to Alberta's oldest existing building, we explored the proud history of St. Albert and Sturgeon Country. I'm not 100% certain, but it looked like the Sevigny Residence (circa 1885) was occupied. We thought it would be creepy to look in the windows so restrained ourselves, but did wonder what kind of work was done to maintain the interior of this quaint home.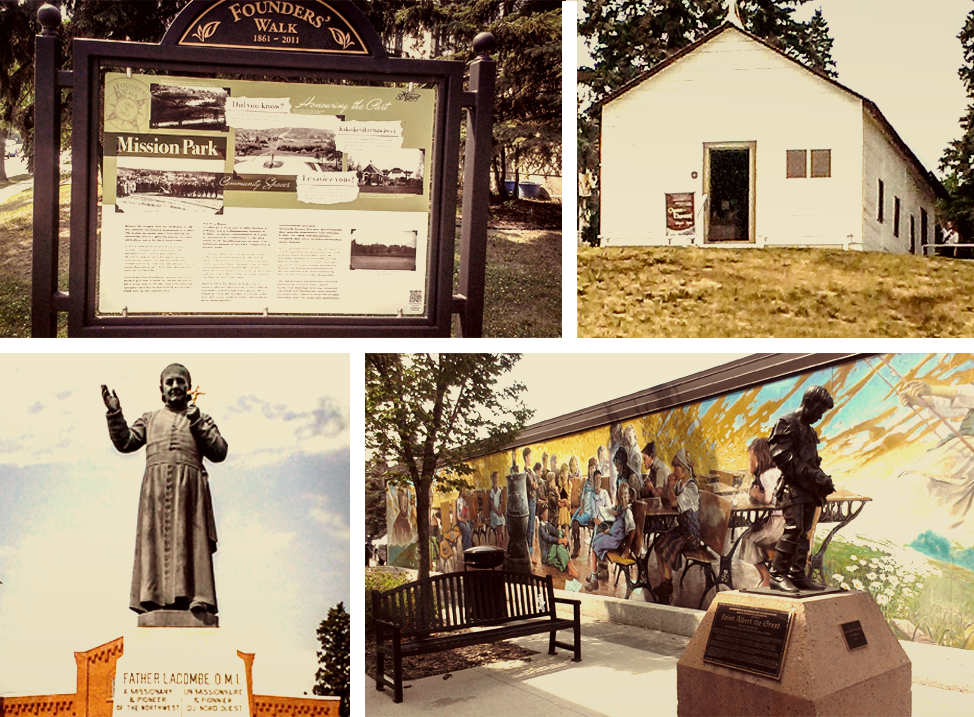 A short walk up the hill practically took us to the doorstep of the Father Lacombe Chapel Provincial Historical Site. This is Alberta's oldest building (150 years old and counting) and has over 60% of it's original wood. Staff did a great job of explaining the history of the church, the Metis people, and the establishment of St. Albert. The view from up here is pretty amazing, too. Take it in as you make your way down a winding path towards Mission Park and back towards downtown.
Lessons Learned
Sometimes the best days are the ones not overly planned. We had originally thought we were going to spend the afternoon exploring the downtown area, not going on a history tour. But letting our surroundings guide us allowed us to explore the city, in a way we didn't expect.
St. Albert is a definite must-see if you're an outdoor enthusiast. You could easily make a day out of exploring the trails (pack a picnic lunch and stop when you get hungry). Bring your walking shoes, bikes, or inline skates, and prepare for a full day outside.
The Botanic Park is pretty exposed, so bring along a hat, some sunscreen, and a bottle of water.
My Alberta Road Trip (a Series)
Every Friday this summer, Krista, an AMA Web Content Specialist, and her husband David are discovering the sights and experiences that make Alberta great. Follow this blog series to find fun, unique, and cheap activities around Alberta.
Want to see what else we get up to this summer? Come back every week for a recap of our most recent adventure.
My Alberta Road Trip: