Location: About 1 Hour West of Edmonton
Duration of Activity: About 3.5 Hours
Cost: Varies (Depending Upon Equipment Needs)
To kick off my Alberta road trip summer blog series, my husband and I made the one-hour drive west of Edmonton to float down the Pembina river. It was the perfect way to relax on the first Friday in our adventure. That is to say, we relaxed once we actually got into the river. Let me tell you about the adrenaline rush we had making our way to the launch spot. It had me wondering, "In this battle of man (or woman) versus nature, who will come out the winner?"
A Modern-Day Portage
Maybe it's because we're city folks, but the 10-minute portage from the parking lot had me envisioning being a Hudson Bay explorer back in our country's infancy. I held one end of our inflatable raft and my husband the other, as we walked the forest trail, stepping over roots and avoiding the bugs (bug spray is a good idea, we learned a bit too late). It's actually a serene walk until you come near the end. That's where the hill steepens and we found our water shoes didn't have enough traction to handle the slope. In my opinion, we had one of two options: hike the raft over our heads and run down Evil Knievel style (and hope for the best) or use the trees as a handrail to help us down. As one woman close to us jokingly pointed out, "River tubing: who knew there was so much danger!"
Our pulse slowed immediately upon first glance of what the river had in store for us. The journey was definitely worth it. The Pembina River is gorgeous and every stretch of the 62-meter gorge took our breathe away. The water wasn't as cold as we expected and the gentle current lulled us into an immediate relaxed state, and a few small rapids added a bit of excitement to our three-and-a-half-hour journey.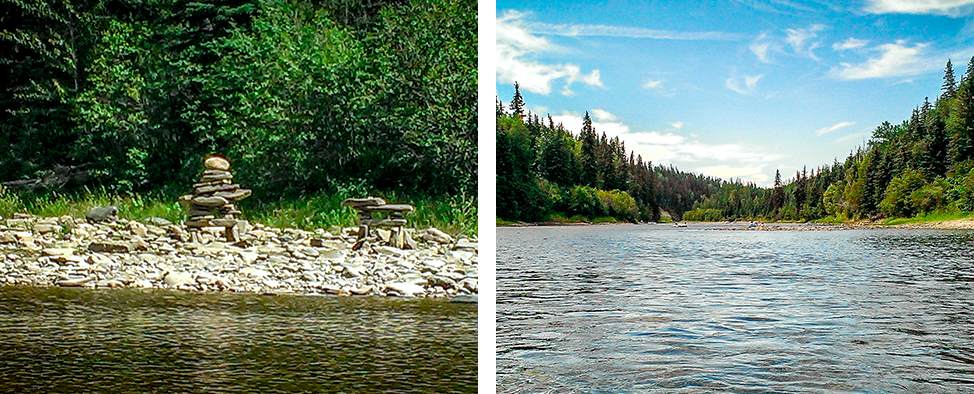 A Feast for the Eyes
The view of the crevices made during the ice age was gorgeous, and on this particular trip we also saw horseback riders, a vast variety of birds, and numerous Inukshuks lining the river's edge. We could hear the sound of a train whistle over the chirping of birds somewhere around a bend. At the two-thirds mark is a large bridge and we were lucky to see a train passing by as we floated underneath. I highly recommend pulling your camera or phone (if you've brought one along) out as soon as you see the bridge, as this is a perfect photo opportunity.
Lessons Learned
Bring your own inflatable raft, life jackets, and oars, and this is an inexpensive way to spend the day. We paid $10 per person for the shuttle back to the parking lot. If you need to rent equipment, the prices are also very reasonable.
Store your phone or camera in a sealable plastic bag. If it falls into the river, at least it'll be protected. And speaking of protected, leave your keys with the staff because they guarantee they won't lose them in the river.
Call ahead of time to find out the river's water level. If it's too low, you'll spend more of your trip fighting to get over the rock bed than relaxing in your raft.
My Alberta Road Trip (a Series)
Every Friday this summer, Krista, an AMA Web Content Specialist, and her husband David are discovering the sights and experiences that make Alberta great. Follow this blog series to find fun, unique, and cheap activities around Alberta.
Want to see what else we get up to this summer? Come back every week for a recap of our most recent adventure.
My Alberta Road Trip: