Ah… Summertime. It's the time for long afternoons with your toes in the lake or a staycation in your garden. Or maybe inventing your own long weekend, ducking out of the office early and loading up the car for a road trip. No matter how many candles since your graduation cake, you can still close your eyes and get that 'school's out for summer' feeling of pure freedom.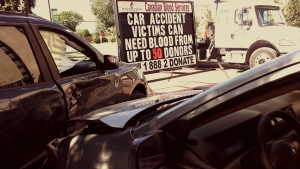 Unfortunately, blood donors take summer holidays too. Did you know it can take up to 50 donations to treat a single victim of a vehicle collision? When crashes go up and the blood supply draws thin, those lazy days of summer can turn deadly.
We may not be first responders, but the everyday heroes who drive AMA's fleet work side by side with those crews, so imagine how good it felt to roll up our sleeves and help out. We've joined forces with police officers, firefighters, EMTs and other emergency workers in Sirens for Life – a campaign to raise blood donations during peak season.
Running until the end of August, our roadside assistance team is challenging our accountants, and the HR people are challenging that guy who taught your teen to drive. And we're all challenging you to challenge all your friends and family to give blood too. That's a lot of challenging, we know, but that's all part of the challenge.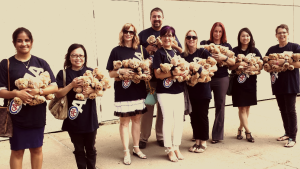 If Teddy can roll up his big furry sleeve to donate (apparently he bleeds teddy bears) then we're hoping you can too. If it's been awhile since you've donated or you've always wanted someone to give you that gentle push out of the airplane, this is your chance to make a big difference.
You can find your local Canadian Blood Services clinic and book an appointment online or by downloading the GiveBlood app.
You can donate blood, plasma or register to donate stem cells (please, no hide-a-beds) – and don't forget to put your name on the Alberta Organ and Tissue Donation Registry. If you're not convinced, read on to hear how Kevin from our Camrose Centre can still see his daughter's beautiful face because someone like you donated their corneas for transplant.
Your donation is like a firm handshake with that guy who took your best ever driver's licence photo or that lovely travel agent who saved you from staying at the same resort that got five stars from the bedbugs.
The guys who fix your flat or boost your battery aren't allowed to accept gratuities (though we think it's sweet that you try), so if you want to wear your AMA pride on your sleeve and celebrate this summer, show your support of #SirensForLife.