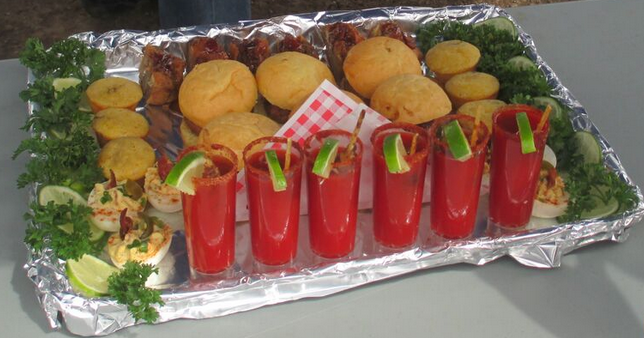 The Porkapalooza BBQ Festival in Edmonton has been making mouths salavate since 2014. Despite the name, the festival is actually a celebration of all things meat: beef brisket, pork butt, ribs, and chicken. The highlight of the weekend is the barbecue competition where 30 competitors sweat the heat for a chance to win over $15,000 in cash and prizes.
Thankfully, you don't have to barbecue at a competitive level to enjoy award winning meat. This Sweet and Tangy Pork Burgers recipe courtesy of Smokehouse BBQ won 1st place in the 2015 Ground Pork category. Give it a try and let us know what you think, and keep your eyes open for more great Alberta festivals this summer.
Sweet and Tangy Pork Burgers
BBQ Rub Mix
Makes 2 cups
1 cup Montreal steak spice (look for a low salt blend)
1 cup garlic powder (granulated garlic)
1/2 cup brown sugar (use less if you are grilling vs. smoking)
1/2 cup chili powder
1/2 cup Piri Piri pepper powder
Mix the ingredients together in a small bowl. Reserve 1/4 cup of the rub mix to use in the pork burgers. Use the leftover mix on chicken or pork chops. Simply massage the rub mix onto both sides of your chicken or pork and barbecue for an out-of-this-world taste experience.
Pork Burgers
1 lb ground pork
1/4 cup BBQ Rub mix
1 tbsp maple sugar
1/2 cup Corn Flakes crumbs
A dusting of flour (enough to cover the meat)
1/2 cup finely chopped onion
2 eggs
1/4 cup milk
Toppings (optional)
Instructions
Mix the rub mix, maple sugar, Corn Flakes crumbs, and flour together with the onion in a medium-sized bowl. Set aside.
In a separate bowl, mix the eggs and milk together. Pour the wet ingredients over the dry ingredients and slowly blend together using your hands or wooden spoon. Add more Corn Flakes if your mix is too wet. Note: The mixture should be a little sticky when you start forming your burgers.
Using your hands or a hamburger press, form the burgers (ideally all uniform size). Use 2 tablespoons of the mixture for sliders, and 1/4 cup for larger burgers. Patties should be no more than 3/4" thick.
Barbecue the burgers using indirect heat or by smoking at 225 degrees F. For both methods you want to cook the burgers until they reach an internal temperature of 170-180 degrees F. To barbecue using indirect heat, heat up your barbecue and then load the burgers on one side. Shut the heat off of that side. After 5 minutes, flip the burgers on to the hot side of the barbecue, reignite the other side, and turn heat off of the side your burgers are now on.
Optional: To add a little more punch to your burgers, sprinkle the tops with the maple sugar before turning over. Once flipped, glaze the bottom sides with Blaze balsamic vinegar. Top cooked burgers with a slice of pickled ginger and a candied jalapeno (or regular jalapeno) on the bun of your choice.