It's road-trip season in Alberta and while visiting Alberta's best attractions is fun, we know that what you really crave is new food experiences. Here are some of our favourite foodie stops across Alberta.
The best distillery: Eau Claire Distillery (Turner Valley)
A Turner Valley craft distillery has rye making backed by hundreds of years. And that's a good thing. It started May 2014 when farmers from across Western Canada planted five hectares of rye at historic Bar U Ranch in Turner Valley using horse-drawn plows just as farmers would have done a century ago before mechanization. It was partly for fun, partly for a deeper connection to the land, says owner David Farran of Eau Claire Distillery. "We wanted to try to do things from absolute scratch," he says. "We're calling this farm-to-glass. You should know where everything that goes into your glass comes from." The rye was harvested in 2014 and barrelled to make the distillery's first batch of rye whisky that will be bottled in a few years. For now, you can sample Eau Claire's first two award-winning offerings, Three Point Vodka, and Parlour Gin, released last year, along with Spring Equinox, a limited edition seasonal special launched this year to honour the start of spring. New this summer, you can tour the distillery and learn about the history of distilling in Turner Valley during Prohibition. Tours are offered Wednesday to Sunday. – Tracy Hyatt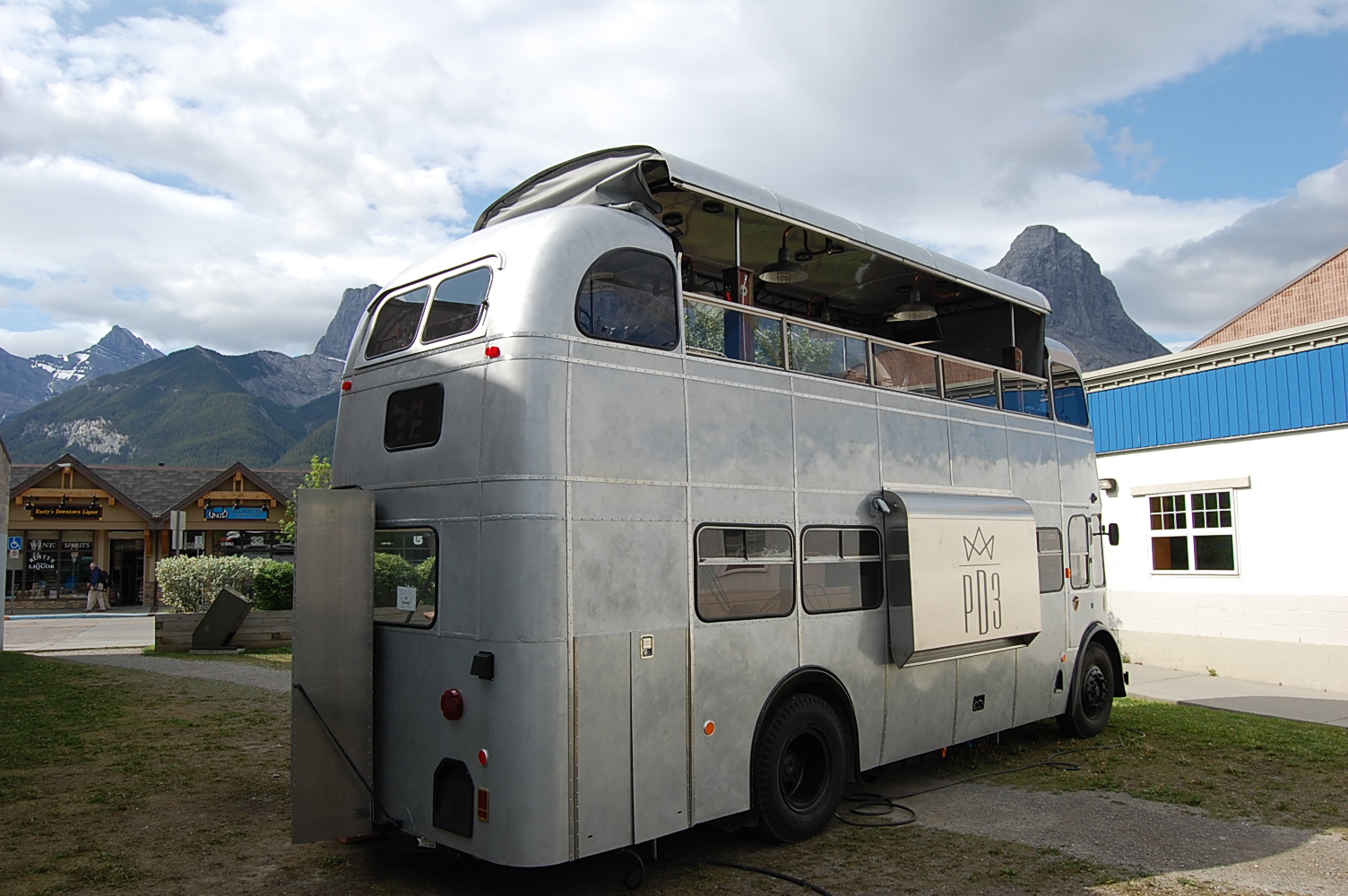 The best food truck (er, we mean bus): PD3 (Canmore)
For as long as anyone in Canmore remembers, 806 Main Street has always been an empty lot. That was until executive chef Blake Flann parked his Leyland PD3 double-decker bus on the overgrown grass. Now the space is buzzing with diners hoping to snag one of 16 seats at PD3, Flann's mobile fine dining restaurant. The dinner menu dabbles in contemporary, global flavours from Japan, England and Spain. Start with savoury churros, then on to a deconstructed cottage pie made with Alberta beef tenderloin and potatoes Dauphinoise. During the week, take-out street-food favourites like tacos and wraps are available for lunch. Dinner reservations highly recommended. – Tracy Hyatt
The best hamburger joint: Chuckwagon Café (Turner Valley)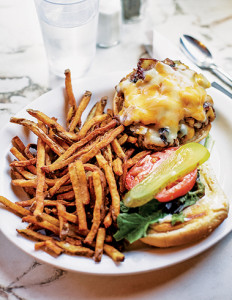 Prepare to argue with us, but when it comes to Alberta's best hamburger, one needn't look further than Turner Valley's beloved Chuckwagon Café, an institution on the Cowboy Trail. The house burger is simple — nothing more than a coarsely ground beef patty with fresh lettuce and a tomato slice on a lightly toasted bun. The secret is the beef. Owner Terry Myhre raises his own hormone-free Murray Grey cattle, a breed known for its small stature, which allows Myhre to cut just the right size of juicy New York, flatiron and tenderloin steaks. Combined with Myhre's secret spices, the result is a mouth-watering patty, seasoned to perfection. Eating it in a room decorated with branding irons and vintage Calgary Stampede posters adds to the flavour. Be warned: Chuckwagon Café closes at 2:30 in the afternoon weekdays and 3:30 on Saturdays. And don't forget to pop into Eau Claire Distillery, located right next door. – Tracy Hyatt
The best u-pick farm café: Kayben Farms, Okotoks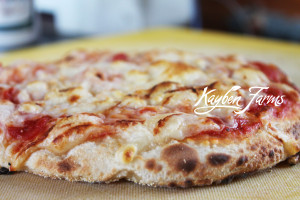 The location of JoJo's Cafe alone would be enough to sell most people on this idyllic eatery – Kayben Farms, just outside of Okotoks.   Pop in to JoJo's Café at Kayben Farms for a woodstone oven pizza hand crafted by our chefs, a summer salad, or something off the kids menu. Not looking for a full meal? Enjoy a specialty coffee, glass of wine, real fruit slushie or ice cream on the beautiful patio. Black currant u-pick available mid-August, and the Sunshine Adventure Park and Café are open May-October, 7 days a week. Spend the whole day with the family and enjoy getting back to nature just 15 minutes south of Calgary.
The best candy shop: The Nanton Candy Shop (Nanton)
Antique and curiosity shops dominate Nanton's main street, but there's one spot that's sweeter than any other. The Nanton Candy Store is the place to indulge when visiting this charming southern Alberta town. The heady scent of sugary treats never fails to stop shoppers in their tracks the moment they push open the door, nor does the dizzying sight of floor-to-ceiling shelves stuffed with gummies, chocolate bars, lollipops, jawbreakers, jellybeans, suckers, sours, toffee, taffy, fudge, licorice sticks, bubble gum, and more. Says owner Lisa Rees, "Kids and adults are in awe of how much candy we sell. The love of candy has no age." Connoisseurs can skip the domestic stock and head straight to the hard-to-find imports: Curly Wurlys, Cadbury Flakes, and Yorkies from Britain. And if you still remember why you drove to Nanton, the back half of the store does a roaring trade in antiques. – Tracy Hyatt
The best fine dining room: Eden Dining Room (Banff)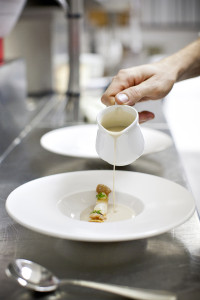 While other restaurants have ditched their white tablecloths and crumbers to feed the growing public appetite for casual dining, Eden Dining Room at the Rimrock Resort Hotel in Banff — the only CAA/AAA five-diamond restaurant west of Toronto — remains steadfastly luxe. Those seeking haute touches will not be disappointed with the exquisite dishes, many of which are near-theatrical in their extravagance. Take the arctic char tartare with blue spruce essence and bourbon-and-orange-blossom gelée (pictured right). Served in a glass bowl on a bed of smoking spruce needles, this culinary masterpiece gives off a subtle, woodsy scent as the diner eats. Equally impressive is the restaurant's stylish dining room, with its 180-degree view of the Banff valley. A visit to Eden always leaves you salivating for more. – Tracy Hyatt
The best schnitzel haus: Haus Falkenstein Restaurant (Edmonton)
When the Hentschel family arrived from Germany in 2009, they opened Haus Falkenstein restaurant in Lougheed Alberta. 7 years later their selection of 347 schnitzels would move to Edmonton, bringing their authentic Ruhrpott cuisine to Alberta's capital. "We are not a Tourist restaurant from Bavaria. What you find on the menu and the way we cook, is common for the area we are coming from." You might be used to the traditional Weiner schnitzel, but here you can get pretty much any topping – from bacon to pineapple. Check out their menu online. – Shauna Rudd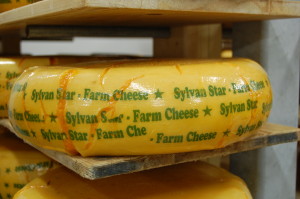 The best cheesiry: Sylvan Star Cheese (Sylvan Lake)
Known nationwide for his aged Gouda, John Schalkwyk of Sylvan Star Cheese has staked his money on his 48,000-square-foot production and retail space to meet growing demand for his artisan products. Visitors can peruse Sylvan Star's shelves for its award-winning Grizzly Extra Aged Gouda, but there are almost a dozen other cheeses to try, including an Edam, aged Gruyères and a cayenne and green-peppercorn spiced Gouda. The facility processes 14,000 litres of milk per week from Schalkwyk's herd of alfalfa- and grass-fed Holstein cows. Minutes away from Red Deer, take a small detour to Sylvan Star Cheese the next time you're driving Highway 2.  –Tracy Hyatt
Learn all about Alberta Destination: Activities, Attractions & Things to do