We're excited to introduce the Member Care Network, a cool new program that takes some of the pain out of an auto claim. It's a convenient, time-saving program that takes care of you from the moment you report your claim to the time you pick up your baby at the body shop.
How it works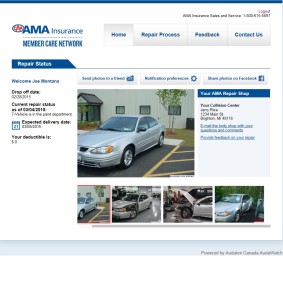 The moment you report a claim, your AMA Insurance claims adjuster sends an assignment to your chosen body shop and the shop calls you within 24 hours to schedule an appraisal appointment. You don't have to do any running around for your own estimate.
The shop completes a detailed estimate and walks you around your car to explain all the repairs. They make sure to order all the right parts to avoid delays and surprises along the way.
The Member Care Network shops have all the information they need about your claim and coverage to provide the superb customer service you expect from AMA.
Track your repair with AutoWatch
While you're at the partner shop you can sign up for the Member Care Network's AutoWatch program, an online repair tracking system. AutoWatch sends you step-by-step updates via email or text and shows photos of your vehicle at every stage of your repair.
"You'll always know what's happening with your vehicle," explains Trent Watson, an AMA Insurance claims appraiser. "It doesn't go missing for 10 days and magically come out repaired. You get to see the entire process."
AutoWatch also sends your claims adjuster updates so he or she can ensure everything runs smoothly.
AMA Insurance is only the second insurance company in Canada to use the AutoWatch technology.
Who can use the Member Care Network?
Anyone with AMA auto insurance can use the Member Care Network when reporting a claim. The service is free and available in Edmonton and Calgary—we have three participating shops in each city and plan to add several more in 2016.
Why is the Member Care Network so awesome?
The Member Care Network gives you peace of mind during a stressful time, the ability to follow your repair, and a lifetime warranty from the body shop for as long as you own your vehicle. And because of the great relationships AMA has with our body shops, your estimate gets priority approval and your repair begins quicker.
"On Monday morning when the shop owner looks out the window and sees five cars," says Watson, "I want him or her to say, 'Bring in the AMA cars.'"