Ukrainians, Poles, Russians, Icelanders, Estonians. They came by the thousands from all over Europe to settle the Canadian Prairies. In turn, the federal government gave them a free quarter section (65 hectares) of land. All they had to do was build a house, cultivate the untilled soil and promise to stay three years.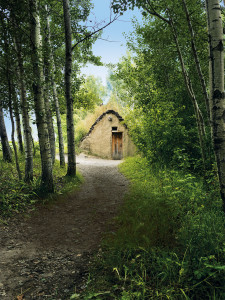 Building a temporary shelter before winter arrived was the first hardship they faced. With nary a tree in sight, nor building supplies, they constructed their first homes from the only material on hand: the land itself. They sliced the thick sod, held together by deeply rooted Prairie grasses – into roughly 60-centimetre-long, 10-centimetre-thick strips and stacked them like bricks to form tiny A-frame houses. These structures offered cool respite from summer heat and insulation from cold winters. The more elaborate sod houses were plastered with clay and lined with decorative wallpaper, or even divided into multiple rooms. Nevertheless, it was tough living. The sod houses were meant to be temporary structures, but some pioneers lived in them for years, until they could afford to build permanent wooden homes.
By far the largest group of early settlers in Alberta were Ukrainian, and one of the finest examples of a sod house can be seen at the Ukrainian Cultural Heritage Village, outside Edmonton.
AMA members save 10% on admission to the Ukrainian Cultural Heritage Village.
Published in Westworld Alberta, Summer 2015
Photography by Darren Jacknisky