Fort McMurray AMA member and father of four Nelson Sturge converted his roughly 1,500 sq. ft. garage into a snug extension of his family's home over three weeks last August, with help from two buddies. His friends were hanging out there anyway, he says, so why not make it comfortable?
The garage, now divided into three rooms, has a lounge area on one side – with a kitchenette, bar and fitness machine. The other side provides parking space for the family SUV and storage space for tools and sports equipment, plus a mud room with cubbies for coats and gear. And it's not just Nelson and his pals who use the space – it's anyone who wants to have fun and make a racket, he says, and not disturb everyone else in the house. Read on for some tips on creating your own, Nelson-approved garage retreat.
Display sports memorabilia. You know that signed jersey you have stuffed in a storage box somewhere? Time to hang it with pride. And gather those team flags onto shelves and open surfaces.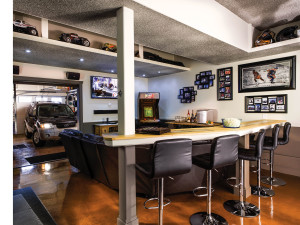 Replace your garage door. It may be a man cave, but it's still a garage, too – so install a new door when you renovate. Save 15% at Creative Door.
Pump it up with a workout nook. When your buddies aren't there eating and drinking, you can use the space to get fit and recover from all the action.
Corral tools and automotive supplies. Hide away clutter in cabinets and bins. Save 10% on regular-price accessories at NAPA Auto Parts.
Install a killer home theatre. Imagine seeing Connor McDavid or Johnny Gaudreau's every freckle and drop of sweat on a high-definition flat screen TV. Add in some surround-sound speakers for thundering realism and a wired-up Xbox so that you can spend intermissions gaming up a storm – and your buddies may never leave. Earn 10% in reward dollars at Dell when you shop the AMARewards online store.
Add creature comforts. Plush recliners are a must-have, as are a bar, a fridge and sleek stools.
AMA Says: Insure Your Garage Reno
Contact your insurance company before and after a garage renovation to make sure you're covered for the extra value you're adding to your home. That could include structural changes, such as a new roof, framing, drywall, insulation or built-in cabinets, or the addition of pricey new possessions, like tools or AV equipment. Also alert your insurer if you've added a new heating source, or special collections such as sports memorabilia. If you're doing extensive renovations, like adding or moving walls, note that most policies will have some limitations during the construction period – there may be no coverage for vandalism or broken glass, for example.
Photo by Curtis Trent
Published in Westworld Alberta, Spring 2015