Roll on Some Colour
The transformative power of paint lets you change a room dramatically in just a weekend. Kevin Skelly, marketing manager for Cloverdale Paint, offers a few tips for freshening with colour:
Go deep: Shades of grey with subtle hints of blue or green add dimension to a room, especially as the light changes throughout the day. One of Cloverdale's top colours for 2015 is Zinc (CA193), a medium-toned grey from the company's Artisan collection that's ideal for a bedroom. "Paired with crisp white and fresh yellow it can make for a stunning look," says Skelly.
White out: Shades of white are also on trend, thanks to their versatility. Designers' top pick is Artisan White (CA013), a warm variant often used for updating kitchen cabinetry. Another designer fave: Standard White (CA025), which leans cooler, lending a crisp, clean look.
Seek inspiration for a theme: "Always start with what you like," says Skelly, who suggests peeking inside your clothes closet for inspiration. Aside from black, what colours do you see in your favourite pieces? Similarly, look to your furniture and enduring objects, such as artwork or collectibles – a colour scheme may emerge.
Update your exterior: Painting your front door or window trim can give your home a little lift. Before you pick up that brush, however, decide whether you want your house to stand out or blend in. If you plan to paint vinyl siding, stick to the same hue or go lighter, says Skelly. "Do not go darker, say to a charcoal from an off-white or grey; the colour will absorb the sun and warp or damage the siding."
The Stalwart Stone
With shades that span the spectrum – think luxe brown, midnight black and speckled pink – there's a granite to suit every aesthetic. Plus, a little goes a long way. Here are three spots to add granite for maximum impact:
Top the island: Make a statement in your kitchen by installing granite on the island. "It keeps costs down while still adding the luxury of natural stone," says Jody Pfunder, owner and director of operations at K&J's Custom Granite.
Pony up: Cap off a pony wall in an entryway, kitchen or bathroom when you just want a hint of stone to set off a small space.
Make over the mantel: A sleek slab of granite is an ideal accent for a fireplace mantel or hearth, says Pfunder. "A touch of natural stone adds richness."
Add Style with Tile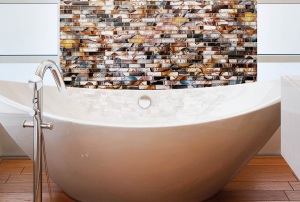 When you're looking for a fast and affordable fix, go for tile, especially if you're handy and can install it yourself. Tile can cost as little as $2 to $3 per square foot, says Brad Bellefontaine, manager and partner at Tile Town Edmonton South: "It's the most economical way to spruce up any area." Bellefontaine offers four ways to update your space with tile:
Backsplash: Tiling the average three-to-four-square-metre backsplash can inject big style into a small space. Choices abound, from digital-printed patterned ceramics and metallic accents to ceramic and stone.
Fireplace: Turn the surround into a showpiece using stone tile paired with a ceramic tile hearth in a complementary colour. Want to go bold? Tile right up to the ceiling.
Entryway: Installing marble tile flooring in the average four-to-six-square-metre foyer won't cost the world – but it will look like it. Choose a pattern that camouflages dirt.
Mudroom: Function rules here, so choose a durable tile, such as one with a slate-like finish, that will withstand wet skis and mucky boots. Beware: high-sheen surfaces can be slick when wet; textured tile is a better choice.
Swap the Front Door
A new front door is an easy and inexpensive way to crank up your curb appeal. Consider a door that offers a mix of style and performance, with features such as dent- and corrosion-resistant fibreglass skins, high-quality automotive paint finishes or glass sidelights. Your new door will look inviting on the outside and help keep your home cozy and bright inside.
AMA Members Save!
Save 30% on regular-price Cloverdale paint products and 20% on brushes, rollers and more at Cloverdale Paint.
Save 10% at Tile Town in Edmonton.
Save 25% at K&J's Custom Granite in Edmonton.
Save 32% at Polar Ray-O-Max Windows in Calgary and Edmonton.