By Barb Sligl
1.  Iceland
Declare your love in the land of ice and fire over the roar of Gullfoss (Golden Waterfall), or on a stark-yet-stunning lava field, where wisps of steam waft from geothermal pools, and Icelandic huldufólk, or elves, peek from behind boulders. Arrive in winter and the northern lights may put on a show during your ceremony. In light-filled summer, opt for an extended sunset by Snæfellsjökull National Park, on the westernmost tip of the Snæfellsnes Peninsula, where the little black Budir Church is a favourite spot for weddings. Or get hitched atop Mýrdalsjökull Glacier at the south rim of Katla Volcano. Thingvellir National Park, a UNESCO World Heritage Site along the famous Golden Circle route, is also a popular spot for outdoor weddings. And just 20 km to the south lies the super-sleek ION Luxury Adventure Hotel, itself an haute-and-hip wedding venue.
Local charm: In the Viking era, it was customary to drink mead to seal the union, and continue for a full moon (the "honeymoon"). Now, you might just try a shot of aquavit beforehand to settle any jitters.
Good to know: Two weeks prior to the wedding, a non-impediment form needs to be submitted, along with passports, birth certificates and an affidavit of marriage (issued at least four weeks prior), plus any documentation of divorce, annulment or death of a former spouse. After the ceremony, a marriage certificate is available from the National Registry Office.
Follow Iceland's southern coastline to the magnificent glacial lagoon Jökulsárlón on a day trip from Reykjavík. From US$207. Book this tour online.
2. Italy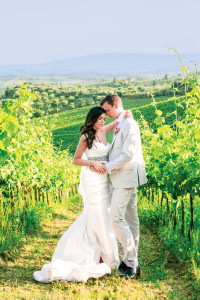 Cupid has taken aim at many a lovestruck couple in Italy. George Clooney and Amal Alamuddin had a lavish Venice wedding last September. Kim Kardashian and Kanye West got married at the 16th-century Forte di Belvedere in Florence last May. But beyond the cities lies the romance of the countryside and coast. Italy is one of Europe's most popular wedding destinations. Tuscany is dotted with lovely villas, like Il Mulino di Ferraia in Chianti, a restored 16th-century windmill that guests have nicknamed Casa delle Fate (House of the Fairies). Set your ceremony and reception by the river, surrounded by vineyards and olive groves. Then explore this storied area further with a visit to nearby Vallombrosa Abbey, and indulge in wine tastings and a cooking class. Or there's the Amalfi Coast. Hole up in Villa Cetara between the town of Vietri sul Mare, a ceramics mecca, and the fishing village of Cetara, a foodie hot spot. Say your vows on the sprawling terrace above the glittering Gulf of Salerno, caressed by sea breezes. Amore!
Local charm: Add some emerald; brides traditionally wear green on the eve of their weddings. And don't forget to toast with prosecco, per favore.
Good to know: A "nulla osta" or certificate of non-impediment, as well as passports, birth certificates and an affidavit of marriage, plus any documentation of divorce, annulment or the death of a former spouse (all officially certified and translated into Italian) must all be presented in person, with two witnesses and an interpreter, to the civil registrar in Italy at least three days prior to the ceremony. Afterward, a certified copy of the marriage certificate can be requested for authentication.
Spend four days in Florence, including three-star accommodation and a guided walking tour of must-see attractions, such as Michelangelo's David. From $905. 1-866-667-4777
Start planning your own fairytale wedding by booking a villa in Europe with AMA.
3. Scotland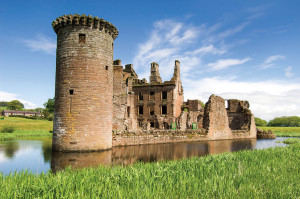 Scotland may be the original destination wedding spot. After England passed the Marriage Act in 1753, barring those under 21 from marrying without parental consent, the village of Gretna Green on the southern border became a go-to for elopements. Ceremonies by a blacksmith priest took place over an anvil, and still do today. For a rather more elegant affair, there's the castle wedding. Restored 13th-century Eilean Donan Castle, outside the village of Dornie, en route to the Isle of Skye, has proven picturesque enough to host not only weddings but also films such as 007's The World Is Not Enough. Say "I do" on the castle grounds, which are bound by three lochs and set against rolling highland hills, then make your way to a quaint local hotel for a reception, with bagpipe music echoing in your wake. Pre- or post-wedding, play a round of golf (Scotland is the sport's birthplace, after all), cruise a loch or sample a wee dram at the Talisker Distillery. For a list of castles that can be booked for ceremonies, receptions or photos, visit: historic-scotland.gov.uk.
Local charm: Of course, there's the kilt. But other customs include hiding heather in the bride's bouquet or placing a sixpence coin in her shoe for good luck.
Good to know: A marriage notice form must be submitted to the relevant district registrar at least 15 days prior to the wedding ceremony, along with any applicable birth certificates, affidavit or certificate of no impediment to marriage, and documentation of divorce, annulment or death of a former spouse. A marriage schedule must then be returned to the registrar within three days after the wedding for registration, and so that the couple can obtain a copy of the marriage certificate.
Spend two days exploring Loch Ness and Inverness on a small-group trip to the Scottish Highlands from Edinburgh. From US$207.  Book this tour online.
To book a destination wedding, talk to one of our Travel Agents or visit your nearest AMA centre.
Published in Westworld Alberta, Spring 2015