By Tim Johnson
1. Go Dude Ranching in Arizona
Learning to rope and ride together can be a memorable experience – whether the memory is that time dad couldn't get on the horse, or the day everyone completed their first trail ride. And while Alberta has some great dude ranches of its own, Arizona's warm climate makes it a desirable destination when the snow is still flying up in the true north, strong and free. Arizona's Sonoran Desert, with its dusty, rust-coloured hills and towering saguaro cacti, provides a perfect setting for western adventures. Tanque Verde is one of the best dude ranches in the country, with 180 horses, lessons for every skill level (and age) and trail rides that take you up into the hills. But it's not just about the horses. The ranch offers a club for kids aged four to 12 that includes desert discovery trips and playground parties. For mom and dad, there's a full-service spa, plus hiking, biking, fishing, swimming and more.
Also take time to roam. Head to Tombstone for a re-enactment of the shootout at the O.K. Corral, or over to Bisbee, a former mining town that has reinvented itself as a gallery destination. And grab a beverage at Greasewood Flat in Scottsdale, a true-west saloon where hundreds of dollar bills hang from the ceiling, a tradition that dates back to the days of wagon trains. Kids are welcome during the daytime.
Don't Miss: Tanque Verde's breakfast ride to a scenic spot called the Old Homestead, where you'll sate your cowboy hunger with freshly prepared blueberry pancakes, bacon, eggs, and sausage.
Insider Tip: Good western wear, from hats to chaps and jackets, can be purchased in Scottsdale's old town, and you can even order up a pair of bespoke cowboy boots.
The Best Part: Something called "team penning." A family must work together to get a herd of cattle into a limited number of pens. Even if you're not successful, you'll definitely share some laughs.
Save 10% on your ultimate Western vacation at the all-inclusive Tanque Verde Ranche between March 1 and April 16, 2015. To book your next vacation, talk to one of our Travel Counsellors or visit your nearest AMA centre. 1-866-667-4777
2. Hit the Beach in the Mayan Riviera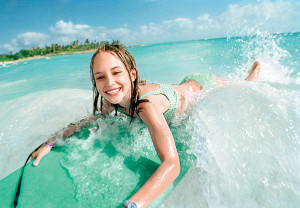 The water doesn't get much bluer nor the sand much finer than in this far-flung corner of Mexico. Set along the northeast edge of the Yucatán Peninsula, Cancun and the Riviera Maya form a postcard-perfect vacation paradise. But it's not just about the beaches. With a fascinating Mayan history and a geography unlike any other in the Western Hemisphere, there's plenty here to hold your family's attention. Plus, the beaches are lined with family-friendly, all-inclusive properties. The Iberostar Paraiso Beach is a sprawling, colonial-style hotel that boasts one of the largest pools in the region. Or consider the Paradisus Playa del Carmen La Esmeralda, which offers a family concierge service, child-sized amenities and rooms stocked with kid-friendly snacks, juices and milk.
Begin your off-resort adventures at Tulum, the area's premiere Mayan site. Perched atop 12-metre-high cliffs and dating back to pre-Columbian times, the site includes the ruins of some 60 buildings within its three massive walls, including the impressive El Castillo, where an ancient civilization performed religious ceremonies. There's also a pretty amazing beach right below it.
From there, dive into a cenote (pronounced "see-no-tay"), one of dozens of underground sinkholes and caverns that dot this part of Mexico – some with water so clear that it's possible to see down as far as 60 metres. Make sure to get offshore, too – snorkel and dive boats leave regularly for the nearby Mesoamerican Reef, where you can swim with dolphins, green sea turtles, more than 500 species of fish, and the largest population of manatees on earth.
Don't Miss: Rio Secreto, a recently discovered "secret" river that runs for several kilometres underground. Strap on a life jacket and a headlamp and take the remarkable tour, which involves scrambling past stalagmites and stalactites and swimming through the fresh, clear waters.
Insider Tip: Just a 20-minute ferry ride from Playa del Carmen, Isla Mujeres preserves old Mexico. Rent a golf cart and spend the day enjoying a slower pace, checking out the roadside food stands, a turtle farm, and practically deserted beaches that go on for miles and miles.
The Best Part: While most of your meals will probably be eaten at an all-inclusive resort, you can get a taste of authentic Mexican cooking on a tour of Playa del Carmen's famous Fifth Avenue with a gourmet dining tour. You'll visit three restaurants from among dozens that line this four-kilometre pedestrian stretch, giving you a sampling of traditional recipes – some of which date back to Mayan times.  Book this tour online.
Discover the mysterious beauty of Tulum and the Xel-Há aquarium. From US$149 for adults; US$75 children (aged five to 11). Book this tour online.
3. Reach for the Stars at Space Camp, Huntsville, Alabama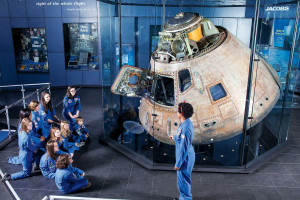 While the words "northern Alabama" may not evoke images of cutting-edge technology and otherworldly exploration, the city of Huntsville is, in fact, the birthplace of America's space program and home to NASA's largest facility, the Marshall Space Flight Center. Welcoming roughly 16 million visitors since it opened in 1970, the U.S. Space & Rocket Center (USSRC) is a wonderland that both space geeks and casual fans of the galaxy can enjoy. And it has something for every age.
Including, of course, Space Camp. The traditional program invites kids aged nine to 18 for a five-night experience exploring real rockets and flying virtual missions. But the USSRC also offers a three-day family camp that includes meals and accommodation. Everyone from kids over seven to grandparents can enjoy building rockets and even sitting in a simulated one-sixth-gravity chair. The Rocket Center's museum also boasts some remarkable exhibits, including a rocket park with 27 missiles and rockets, a shuttle park, the Saturn V moon rocket, a capsule from Apollo 16, and a 3D digital theatre.
Huntsville offers terrestrial pleasures, too. Tour historic mansions, stroll botanical gardens, and visit the EarlyWorks Children's History Museum, the largest hands-on museum in the South, which includes a talking tree and a 46-foot keelboat.
Don't Miss: The Space Shot simulator at the Rocket Center, which whips you up 43 metres and gives four Gs of force, plus three seconds of freefall.
Insider Tip: Although best known for its other-worldly attractions, Hunstville is also a major art centre. Kids will adore the Huntsville Museum of Art for its 3D and hands-on exhibits. Nearby Lowe Mill, a cluster of 100-plus studios in a former textile mill, is the largest private art centre in the U.S.
The Best Part: If you don't mind a bit of a drive, combine your Huntsville visit with a beach holiday on the Gulf Coast. Beach hotels in Gulf Shores and Orange Beach, Alabama, are routinely less expensive than those on the neighbouring Florida Panhandle, so you can enjoy those beautiful, sandy beaches a couple days longer for the same price.
Save up to 20% at the Best Western Plus Rocket City Inn & Suites, near the U.S. Space & Rocket Center. Visit AMARewards for more information. 
Members get exclusive benefits and earn reward dollars on car rentals booked through AMA Travel.
4. Explore the Urban Jungle in New York City
With restaurants, shows, and attractions geared to those travelling with kids in tow, the Big Apple is an ideal place for a cosmopolitan spring break. Start your adventures in the centre of it all: Times Square, a spot that surges with energy. You could spend an entire day here just taking in the spectacle, from costumed superheroes mugging for photos to the flurry of lights that never stop flashing and the infamous Naked Cowboy strumming his guitar (important: he's not actually naked). Also check out the Square's megastores, which double as mini theme parks. These include a massive Disney Store, M&M's World (as chocolatey as it sounds), and a Toys "R" Us with a six-storey Ferris wheel inside. Then, line up at TKTS, a busy ticket booth run by the Theatre Development Fund that sells same-day seats to Broadway and Off-Broadway shows for up to half off. Kid-friendly shows The Lion King, Aladdin, and Roald Dahl's Matilda are all currently running. The Off-Broadway New Victory Theater specializes in family-friendly programming and even offers workshops – at its New 42nd Street Studios, just a few doors down – for dramatically inclined kids and their parents.
When you're ready for some fresh air, Central Park awaits. Home to skating rinks and walking paths, and even a small but fascinating zoo (the penguin pool is a highlight), it's the perfect place to blow off some steam. Then head to the legendary Tavern on the Green, right next to the Park's Sheep Meadow, for some hot chocolate.
Don't Miss: The opening ceremony at FAO Schwarz, when living toy soldiers herald the start of another busy, whimsical day. Then go inside and play a tune with your feet on the giant piano, just like Tom Hanks did in the movie Big.
Insider Tip: Kids pining for a taste of home will love Peanut Butter & Co., where PB&J makes up most of the menu. Try the super-indulgent Elvis sandwich, which is grilled and stuffed with bananas and honey. Bacon is optional.
The Best Part: A trip to New York can be both fun and educational. Make sure to include a visit to the American Museum of Natural History, which is home to loads of hands-on activities designed with kids in mind.
Save up to 40% on six admissions, including the Empire State Building Observatory and American Museum of Natural History, by purchasing a New York CityPASS before you travel. From US$119.  To buy the pass, visit AMA Travel.
Published in Westworld Alberta, Spring 2015