Alberta has one of the lowest numbers of registered organ and tissue donors in the country. In fact, donor rates have dropped by 40 per cent over the past decade. That means hundreds of Albertans are waiting for organ and tissue donations in order to improve their lives, or even save them. And donations from just one person could save up to eight lives, and bring a better quality of life for up to 75 more.
We're working with the province to help turn that decrease in donors around.
Making Organ Donation Easier
Earlier this month, we were honoured to host Minister of Health, Fred Horne and Minister of Service Alberta, Doug Griffiths at a news conference in one of our Edmonton AMA centres to launch the new Alberta Organ and Tissue Donation Registry. The Ministers, along with Don Smitten, the president of AMA, spoke to media about the new service, after which Minister Griffiths stepped up to our registry counter to be the first one to register his consent.
"By letting Albertans register their consent to donate at registry offices, we expect to increase donation rates in Alberta," Minister Griffiths said. "By the end of June, about half of registry agents will be on board, and all registries can provide the service before next April."
How to Register for Organ Donation
AMA is one of the first registries in the province to offer this important service. Now, when you come in to apply for or renew your driver's licence or ID card, you'll be able to register your intent and give consent to become an organ or tissue donor. The consent and your renewal or application is done at the same time at no cost.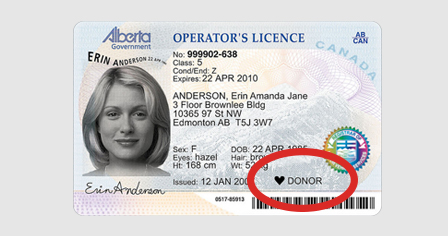 You can learn more about the program in this news release from the Government of Alberta. Over 4,100 Albertans have already registered to become donors since the launch of the Alberta Organ and Tissue Donation Registry in April.