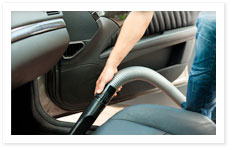 Finally, spring has sprung (despite the snowy conditions outside) and your vehicle is raring to get out on the road without worrying about snow, salt, or sand (seriously, it's got to get cleaned up soon!). But before you throw on your no-knuckle driving gloves and your best pair of Ray Bans, let's make sure your car's in road-ready condition.
Are Your Tires Ready for Warmer Days?
Switch out your winter tires at the end of the season, as they are not made for summer use. Winter tires are made of softer rubber. This causes them to have longer braking distances, and makes avoidance manoeuvres harder in emergencies, especially during warm summer months. Plus, a winter's tire tread is quite a bit different than what you'd find on a summer tire. It's made specifically for snow, and use on dry pavement for an extended period can wear down the tread in no time.
A properly inflated tire will help improve your fuel efficiency, extend the tire's life, and provide better vehicle handling. Look in the owner's manual, on the door jam, or in the glove box for the correct information.
Clean Your Vehicle Outside (and In)
The winter months have left their sloshy, salt-ridden mark on your car, even if you took all of the right precautions, like swapping out your fabric floor mats for rubber ones and parking in a garage.
Give your vehicle a thorough cleaning to remove the last of the salt and sand that accumulated over winter. That also includes cleaning under the hood and shampooing the engine and wheel wells.
A fresh coat of wax and polish to your vehicle at least twice a year preserves its paint, as well. And it won't hurt to give the inside a good vacuuming, wash the floor mats, and clean the interior windows.
Lights, Please
All of that muck on the ground and in the air can do some damage to your car's electrical system over the winter. Wires can corrode or become disconnected, and those tiny rocks we were so happy to see a month ago are now just a liability.
Make sure your headlights and brake lights are intact, as you never know where those rocks may have made contact. And to be safe, make sure your reverse lights, parking lights, turn indicators, and hazard lights are working properly. Oh, and also the small bulb above your licence plate. We always forget about that one, too.
Approved repair centres can fix almost any electrical problems with your car. Find a location close to you, if you have any concerns.
Them's the Brakes
Brake damage can occur during the winter months, thanks to that pesky road salt. In addition to braking system leaks, salt can cause rust and damage to your car's underbelly, which makes the extent of the damage difficult to detect.
Have your brakes checked every six months (or 20,000 km) by an approved repair centre, to make sure they're working properly when you need them.
More Quick Tips
Check Your Wipers – Wiper blades are critical for safety, but have a short lifespan – six months. Check the blades and replace if they are worn or damaged.
Keep Your Cool – Be sure to check for leaks in the radiator and for cracks, leaks, and swelling in the rubber cooling system hoses. It's also wise to replace the antifreeze if it's more than two years old.
Replace Your Filter – Your car's air filter collects dust and particles, especially before the street sweepers make their initial rounds. Replacing it is fairly easy to do on your own, but if you need some help, call your nearest service centre.
In the End …
The best advice we can give is to follow the recommended maintenance schedule for your vehicle, found in your owner's manual. If you find yourself stranded on the side of the road for any reason, remember that little membership card in your pocket and call us at 1-800-222-4357 for roadside assistance.