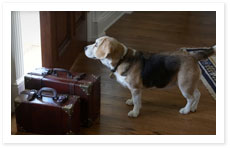 When you go away — either for a few days or a few weeks — you want to spend your time enjoying yourself, not worrying about whether your home will be safe. Whether you're traveling by plane, train, automobile or boat, here are some quick and simple tips you can do to keep your home safe and sound while you travel around.
Check Your Home's Locks
Don't invite unwanted visitors into your home. Before you leave, double-check your home's entry doors, windows (basement, too), sheds, and garage doors (including attached garages, as they are another way of gaining access to your home). If you have a sliding door, place a piece of wood in the sliding window tracks for extra security.
Make it Look Lived In
Don't advertise you're away with a dark home. Instead, make your home look lived in with the help of an electrical timer for indoor/outdoor lights — a timer's great for turning your TV on and off as well. Installing a motion detector on your outdoor lights is also a good idea. Keeping up appearances is a good way to protect your home, so ask a friend or neighbour to mow your lawn and water your outdoor plants or garden. Invite a neighbour to park on your driveway while you're away so it looks like you're still around.
Leave Someone Else in Charge
To meet your home insurance requirements, you may need to have someone walk through your home every day while you're away — be sure to ask your insurance provider about this. Resulting damage from something such as sewer backup may not be covered by your insurance if you didn't make the necessary arrangements. You may also want to turn off your home's water supply, depending on how long you'll be away.
Put a Hold on Your Mail
An overflowing mailbox or stack of fliers at your front door is a sure sign no one is home. Depending on how long you'll be away, put a hold on your mail or ask a friend or neighbour to collect it for you. If you haven't gone digital, put a hold on your daily newspaper delivery, too.
Hide the Hidden Key
Keeping your home safe when you're away means making it harder for thieves to break in, so don't temp fate by leaving a key hidden outside your home — everyone knows that trick. Instead, leave it with a friend or neighbour.
Remove Your Valuables
Be careful leaving your valuables exposed when you're away. Consider transferring things such as expensive jewelry and important documents to a safe deposit box.
Keep it Under Your Hat
While an upcoming trip is exciting news you want to share with everyone you know, the best way to protect your home while you're away is to keep the trip to yourself. Don't change your phone message to say you're away. Keep your message as is and set it to pick up on the second or third ring. And as much as you may love social media, avoid posting photos and amusing trip anecdotes until after you get home.
Alert the Alarm Company
If you have a monitored home alarm system, it's a good idea to call your home security company and let them know you'll be away. Give them an emergency contact name and number that they can call should something happen.
Mind your Garbage
Have you recently picked up some cool new electronics? If so, don't leave the boxes sitting in your back alley or by your garbage. Your giant-screen TV box could be pretty appealing for a burglar — especially if they have figured out that you're away.
Stay Connected
While we all dream of getting away from it all, there is great peace of mind in knowing you can be easily reached should something go wrong. It's always a good idea to leave a phone number where you can be reached with a close friend or family member.
The Bottom Line
Your vacation should be a time of relaxation and renewal, and a time to reconnect with those you care about most. Prepare by following these easy tips, so you can spend your vacation time worrying about having the time of your life, not whether something could go wrong at home.
---
Member Rewards